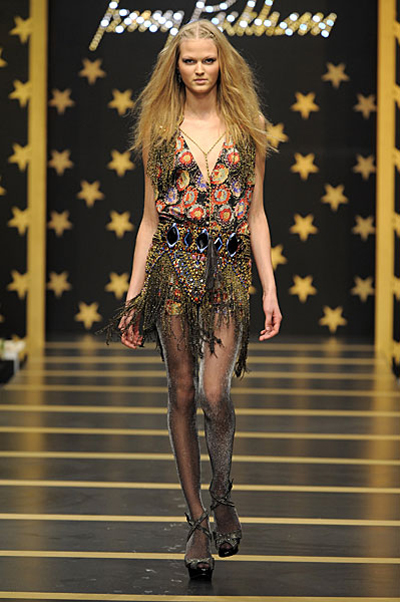 What do you get if you cross gypsy style, with Indian beading and a tassel salesman? Jenny Packham's Autumn/Winter 09 collection.
It was the strangest show. Jenny Packham is loved by celebs and she does make fabulous eveningwear, but as a collection this was confusing and yawn worthy. It was a strange combination of colours and choice of styles.



The highlights were, well mainly the delicious chocolates in my goodie bag but other than that it was the cap sleeved floor length gowns. The beauty of these was the 1930s look to them, they were sophisticated yet sexy. There was also a great mini dress, made up of black ruffles and was embellished at the neck with a giant black jewel. The mustard shades were lovely although the dresses themselves were not, please refer to the crumbled tulle thing. A red floor length was quite spectacular, but the red mini was horrifying. If you haven't guessed this was a total hit or miss show.



But why didn't it work? Two things mainly, one was the unflattering cuts, particularly the ones which had cut out belly button areas, I'm pretty sure showing off your belly button died out in the 90s. The second was the tassels, I cannot explain to you how many tassels there were. One dress was made entirely of tassel cords, whilst the rest of the dresses were covered in the things, or had them as belts, which made the whole ensemble look like curtains.
It was all very weird, if anyone can answer what the attraction of tassels is, please write in and let me know.
This post appeared first on MyFashionLife.com