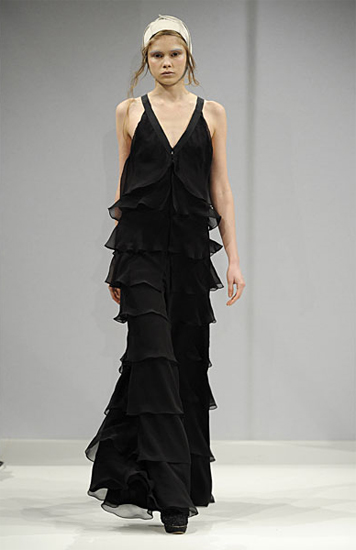 With a jazz inspired soundtrack and each model sporting a grey silk skull cap, there was more than a whiff of the 1940s at the Maria Grachvogel show. The collection was staggeringly elegant. Halter dresses, flared catsuits and trousers, pussy bow blouses, in tweeds, silks and organzas, adorned with feathers, pleats and frills, just seemed to drip off the models bodies.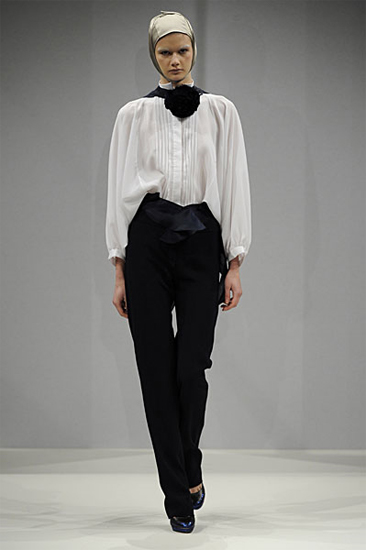 Yet there was sculpture too, with oversized folds and twists of fabric around the necklines of blouses. Trousers were wide-leg or pin-slim. A bold peonie flower motif provided a splash of colour in what was otherwise a very muted collection, with a pallet of deep ink, mushroom and ebony.
I caught up with Maria after the show for a quick word:
MFL: There seems to be many influences from the past in this collection, with a hint of the 70s and 40s. Where do you draw your inspiration from?
MG: For me, it's never been about external influences. Everything is about making a woman feel gorgeous. So the pleating that I have developed in this collection was about me trying to find a new way to sculpt the silhouette. It's about finding ways of making women feel beautiful.
MFL: How has that evolved for you this season?
It's always been about sculpting and that develops season by season. It's really interesting to me now that fashion has moved much more towards investment dressing and not having something that only lasts a few seasons. The idea is that these pieces should become future classics and still look beautiful in 20-30 years time. They're items that I want to be handed down.
MFL: This collection seems to fuse a lot of shapes that are diaphanous with those that are highly structured.
That's an important contrast. The masculine and the feminine. The figure should be sculpted flawlessly. Clothes should be effortless and comfortable, not restrictive. You may have noticed that there are no seams on the trousers. It helps the hips look smaller and the legs look longer. It's nice to embrace the feminine form and it really shouldn't matter if you're a size six or a size twenty, you can still look beautiful. It's lovely to embrace all shapes, sizes and ages. I really enjoy that spectrum.
This post appeared first on MyFashionLife.com