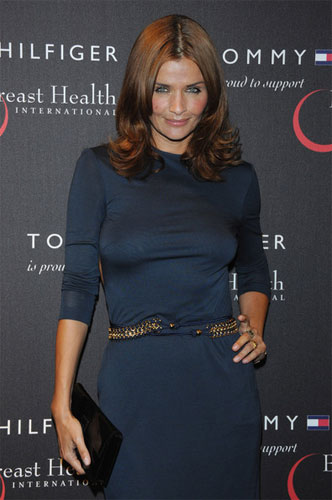 The supermodel-turned-photographer has spoken out in support of the British Vogue magazine editor's decision to complain to the world's leading fashion brands for favouring the tiny, skeletal look.
Helena said: 'It's about time somebody takes action. Obviously I am of the same belief. Aren't we in a business that is supposed to explore all kinds of shapes and silhouettes?'
Instead, the 40-year-old beauty believes the fashion industry needs to focus on healthy, natural body images.
She added to Britain's Independent newspaper: 'The original supermodels all had shape and photography in the past was all about the organic, sensual shape of bodies.'
Alexandra – a highly-influential fashion figure – surprised many with her recent letter which accused designers of pushing models to lose more weight from their small frames.
According to The Times newspaper, the strongly-worded letter accuses designers of supplying 'miniscule' sample garments to magazines for photoshoots, and causing them to hire extra-skinny models with 'jutting bones and no breasts or hips'.
She complained Vogue were regularly forced to retouch images to give them extra curves.
This post appeared first on MyFashionLife.com