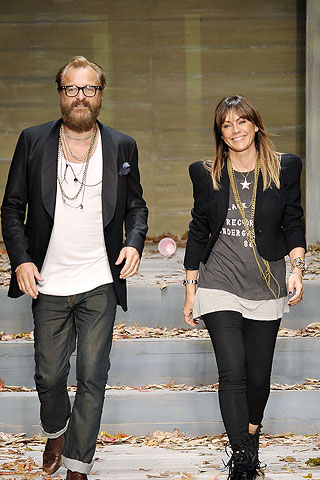 William Rast designers Johan and Marcella Lindeberg are to launch their own fashion line.
The husband-and-wife duo – who were hired by William Rast founder Justin Timberlake to work on the label three seasons ago – are setting up their own high-end clothing range called Paris68.
The forthcoming designs, which are due to hit stores in autumn 2010, will include both womenswear and menswear.
Female shoppers will be able to purchase handmade knitwear, dresses and leather jackets, while male customers will see high-end denim, made-to-measure suits, tailoring and leather jackets.
Johan founded the J. Lindeberg fashion house but has cut all ties with his former label to concentrate on his new project.
The Swedish designer reportedly said he had not been involved in eponymous label since it was bought in 2007 by investment firm Proventus.
Following the deal, a new design director was appointed without Johan's permission and the re-launch of its womenswear range, designed by Marcella, was scrapped.
It is believed the couple – who moved from New York to Los Angeles to be nearer to Justin – will continue to contribute on William Rast collections.
[Image]
This post appeared first on MyFashionLife.com