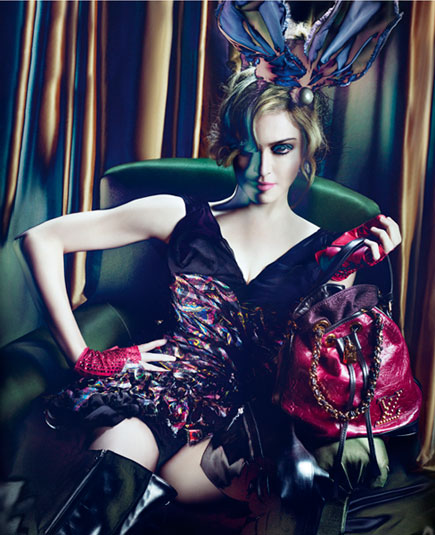 Late last week, we shared a picture from Louis Vuitton's latest AW09 campaign with the Madonna.
The image showed the material girl looking very serene, staring into space and clutching a tote from the collection.
Now all the images from the campaign have been been released, and we have them here for your viewing pleasure.
(See after the jump!)
Personally I prefer these pictures in contrast to those from the first campaign for spring/summer 09.
Admittedly, they're just as photoshopped but I love the use of colour. Inspired by the artist Man Ray, the AW09 campaign was shot in a studio by none other than Steven Meisel.
"After the fun we had with the Spring/Summer campaign, and the amazing reaction to it, all of us , Madonna, Steven and myself , were eager to get back together for Fall/Winter," Marc Jacobs commented.
"While the two campaigns look very different, there is also a unity about them, so it now feels like we have completed both parts of the story."
The campaign will hit a magazine near in August 2009….
This post appeared first on MyFashionLife.com