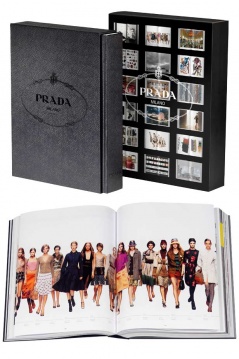 Wednesday night saw the much anticipated launch of Prada's mammoth book Prada: Creativity, Modernity, Innovation at the label's Bond Street store. Across 738 pages, Miuccia Prada herself, along with Patrizio Bertelli (the company's CEO), have compounded the fashion house's successful history since being established in 1978.
Grazia Daily reported: 'Every page-turn offers another flashback; from the 1996 lime green formica print 'geek chic' look, to those candy pink patent Mary Janes, Kirsten McMenamy in the tiny rosebud print skirt, and Grazia's all-time favourite Prada collection: Spring/Summer '00 with those beautiful pleated lip print skirts. Prada.'
We can't wait to get our hands on this and are hoping it's not too late to add to the ever-growing Christmas list…
Purchase yours now in Prada stores or at Prada online. If you can't wait a moment longer then we suggest you visit Grazia Daily, who received permission to publish a mini Prada gallery, featuring images from some of their most memorable campaigns.
This post appeared first on MyFashionLife.com