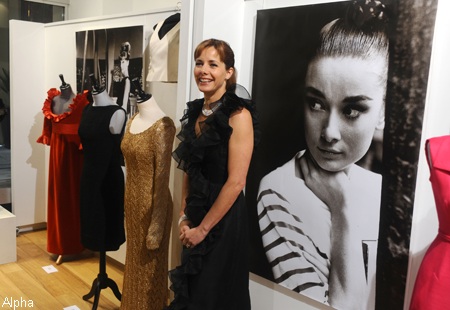 There was a whole lot of Hepburn history to be had on Wednesday as Audrey Hepburn enthusiasts from all walks of life gathered for an auction of some of the legendary lady's most iconic ensembles.
The 36-piece exhibition was predicted to fetch £100,000, leading to a few surprised smiles when word hit that a punchy £268,320 was raised at the event, which sees 50 per cent of the proceeds go to The Audrey
Hepburn Children's Fund.
The most sought after item was a black Givenchy couture lace cocktail dress worn in the classic film How To Steal A Million, which sold for a jaw-dropping £60,000 to an anonymous bidder.
How mysterious, you might think. Well, rumours suggest that the not-so-anonymous bidder may in fact be Audrey admirer Victoria Beckham, who has made no secret in the past of her love for the stylish screen siren.
"There was a real mix of people from all walks of life at the sale, Rachel Aked from Kerry Taylor Auctions told Grazia. "One woman who bought the jade velvet Givenchy hat told me she was putting together an Audrey Hepburn collection in London, and another man who spent £7,800 on the Valentino ruffle dress, modelled for us by Darcey Bussell on Monday, was buying it for his wife's Christmas present! (Santa, take note).
If only we had a pile of pennies big enough to win ourselves a gorgeous gown or two from Hepburn's history.
[Images]
This post appeared first on MyFashionLife.com