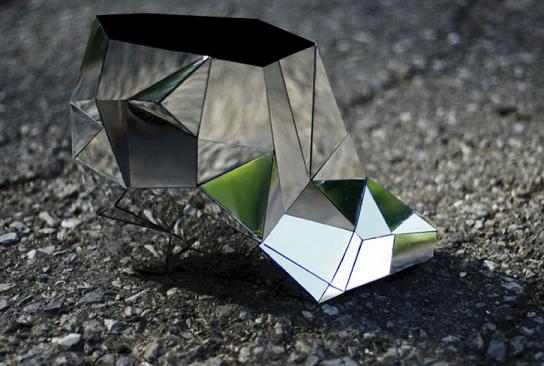 From Antonio Berardi's heel-less shoes to Alexander McQueen's Armadillo hooves, statement footwear has always got trendy tongues wagging. But how about an invisible pair? That's Andreia Chaves new venture.
Straight from the streets of San Paulo, Brazilian based shoe designer Andreia Chaves , inspired by the chaos and structure of her hometown , has designed a pair of barely-there 'invisible' shoes.
Ok, so in this sense, invisible shoes actually means a pair of bonkers booties made from mirrors, but you know, tomayto tomato.
"The fact that I grew up in a chaotic city like Sao Paulo, full of contrasts, being in contact with such diversity and constant exposure to different visual inputs, has inspired me in how I think and conceptualize my shoes, Andreia tells Yatzer of her designs. "Looking at my work, I can clearly see influence coming from my South American sense of versatility.  Also in the mix – what I have been experiencing in Europe."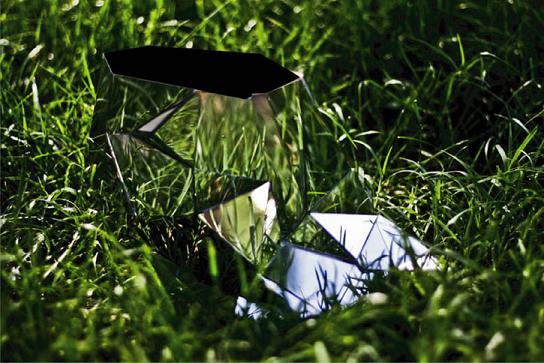 Apparently, the deceptive optical effect of the mirrors means the invisible shoe, with its chameleon-esque facade in toe, blends with any environment. So apart from sounding as uncomfortable as Cinderella's glass slippers, they seem quite exciting (and as near to having super-hero powers as we're likely to get).
Alas, not only do they sound uncomfortable , they look it, too. But we can't. stop. staring. at. them.
[Images]
This post appeared first on MyFashionLife.com