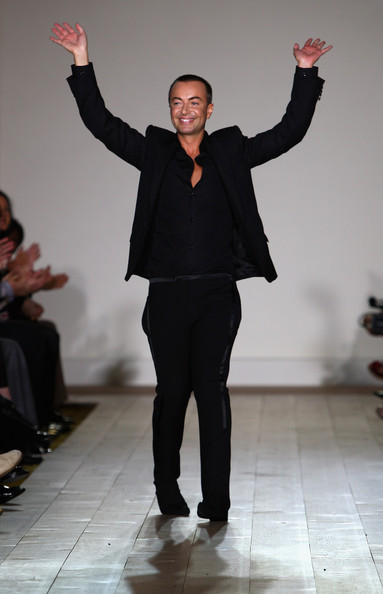 Frankly, we're bored of New Year's resolutions. Let's face it, we're not going to start that diet yet, and we're certainly not putting pounds into a gym membership when there are so many sale bargains still to be had. Oh no, we think it's far more fun to hear what some rather fashionable folk are attempting for the year ahead.
Some designers are keeping it sweet and simple , Markus Lupfer, for one, just wants to be happy and positive in the year ahead, and William Tempest has vowed to help others and do something for charity.
Some need a new bra , namely Sadie Frost, who has promised herself a trip to London's luxury lingerie label Rigby & Peller for a fitting , and clothes. Julien Macdonald confesses he wants to be more adventurous with his clothing choices and advises everyone to enjoy clothes, be wild, and go shopping (can't say we complain there).
And others haven't quite got the hang of New Year's resolutions, revealing instead their New Year's prediction. London based designer Osman Yousefzada, who's Osman dress caught the eye of, oh let's see, just a few million when Dannii Minogue wore it for the X Factor final, told Vogue UK:
"I think that this year my personal signature look , the boiler suit , will become a fashion must-have. I started wearing mine about three years ago on and off, but I have been wearing them solidly for over a year now. You can wear them with trainers and rolled-up legs for day wear in the summer – and I usually cut off the sleeves. In the winter you can wear them with riding boots and a fitted knitted cashmere sweater, along with a dinner jacket and an oversized scarf. Topman is already stocking a range but girls can wear them too; just roll up the legs, add a belt to cinch in the waist and add some high heels."
There's always one.
This post appeared first on MyFashionLife.com