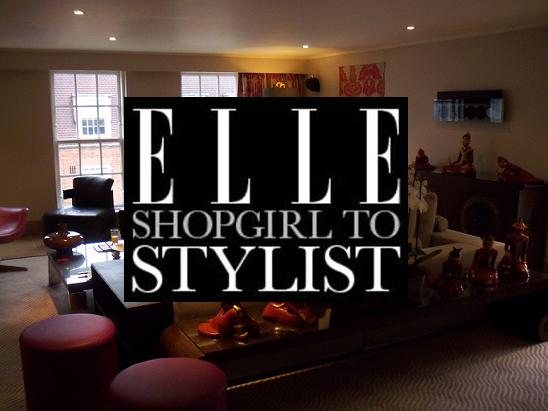 Elle UK is on the search for talent , a stylist's talent, that is. As the fashion glossy launches its first national campaign, we took a trip to London's Mayfair Hotel this morning and met up with team Elle over breakfast to hear all about it from the chief in charge.
And here in the UK, that chief is Lorraine Candy (editor-in, if you're following). To celebrate Elle's 25th birthday, she's spearheading the search for Britain's best budding stylist, and along with her team of savvy sirens, she's hunting across England and its isles to find her , or him, for that matter.
Having always supported young talent on Britain's globally renowned high street, Elle's search will begin next Friday when, as the campaign name suggests, shop girls and boys can prove they've got what it takes to become an international stylist.
"This is a unique and exciting project which heroes the men and women who literally style the nation, Lorraine says of the project, which has been dubbed fashion's answer to the X Factor. "They deserve more credit for what they do and we'll give them that in the pages of Elle.
The winner will get an opportunity to style a fashion shoot for Elle magazine, as well as an internship and mentoring from Elle's very own Fashion Director, Anne-Marie Curtis. "Our winner will get the big break they have always dreamed of, says Anne-Marie, whose work in fashion is recognised worldwide. "He or she will have the profile and the contacts needed to start life as a fashion stylist.
Whistles, House of Fraser, Next, Oasis and French Connection have already lent their names to the campaign, with many more high street shops and boutiques set to follow. But best of all, anyone who works in retail , and has their sights set on becoming a stylist , can put themselves forward.
25 applicants will appear on the campaign website, where readers can 'love' their favourites, add comments and share their most coveted styles on Facebook and Twitter, using the hashtag #ELLESTYLIST (the wonders of social media). 10 top would-bes will then go head-to-head in a series of styling challenges, mentored by five people from the Elle team, including Lorraine herself.
The six-month strong campaign will fall to a grande finale later this autumn where, on September 1, the winner will be announced in the 25th Anniversary issue of Elle.
If you think you can dress the best and out-style the most savvy of shoppers, then enter at elleuk.com/shopgirltostylist with an image of a shot you've styled and a reference from your retailer when the campaign launches next Friday, March 5th.
This post appeared first on MyFashionLife.com