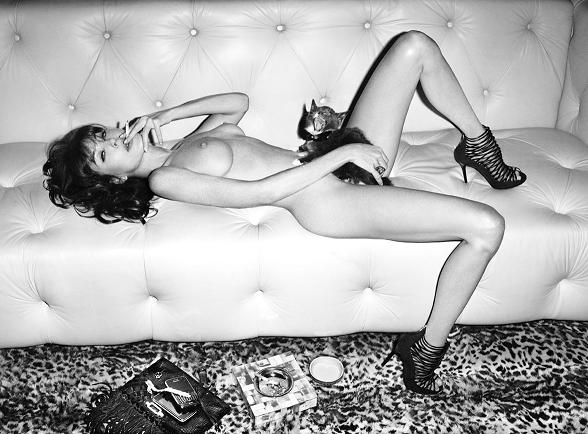 It'll take more than a few controversial tales about inappropriate behaviour to ruin Terry Richardson's career in fashion. He's as busy shooting naked people as ever, though his latest muse wears some killer heels. Hardly surprising, really, given that it's Tamara Mellon.
What is surprising, though, is that the extremely polished Jimmy Choo president is naked. Sprawled across a sofa she wears absolutely nothing, bar a pussy cat, which is aptly placed over her, er, own one (snigger).
The shoot is for the latest issue of Interview magazine, in which Tamara talks about to taking off her business woman coat.
"Journalists normally come in with a preconceived idea about what I'm like. They have all these assumptions that aren't accurate," she says. "They want this fantasy of this sort of tough businesswoman, red-carpet thing. That's the story they want."
Oh Tamara, but the story they really want is right here, y'know, the one about you being naked. "I mean, it's nude but it's chic," Tamara says of the shoot. "I wonder what they'll say at the next board meeting."
Well if she takes that kitten along, we're pretty sure it'd solve that problem.
[
Images
]