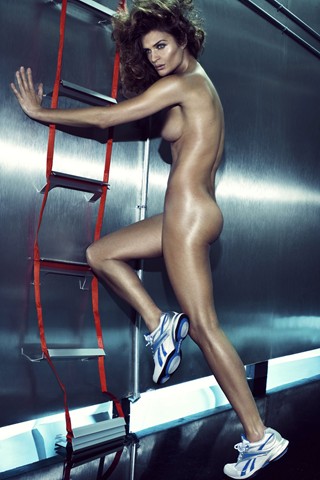 As a supermodel with a body to die for, you wouldn't think Helena Christensen needs to worry about exercise all that much, but she does, and she's putting Reebok's new EasyTone trainers to the test – whilst she poses in them. Naked.
We doubt it takes much to get Helena's body looking that good, but she's adamant nevertheless that her EasyTones are doing wonders.
"With my busy schedule it's a perfect way to do something without spending hours in the gym,"  the super tells Vogue UK of the trainers, which promise to tone your legs and bum as you walk. "I'm impatient, when I try something I like to see results immediately. I could feel these working right away which is why I've stuck with them."
No matter how long we stick to ours, we're somehow a little dubious that we'll ever look like Ms. Christensen – we'll blame our genes for that one, disadvantage or what?
[Images]
This post appeared first on MyFashionLife.com