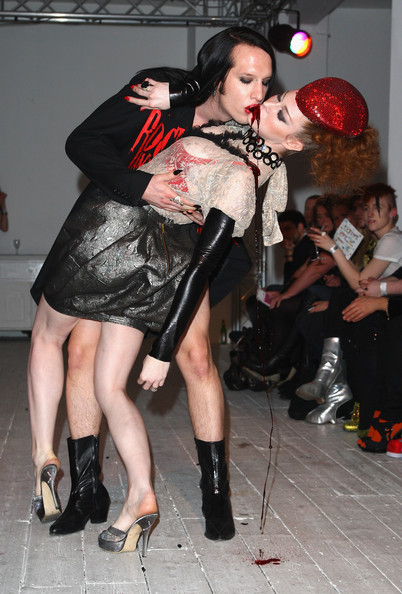 ClosetBox, the new online shopping sensations, has secured some great designers since it's start up, but they've just signed one more, a certain Johnny Blue Eyes, who's created a brand new (and rather unique) project: Love for Sale.
If you haven't heard of ClosetBox, it's an online boutique favoured by the likes of Kelis and Perez Hilton (perhaps not the most persuasive of style icons, but it goes to show its celebrity appeal), selling shoppers' unwanted items of clothing as well as providing a platform for new and emerging talent.
And one of those is Johnny Blue Eyes, the controversial stylist-come-designer. He's got a new project, you see, called 'Love for Sale' which is as literal as it sounds.
As well as selling pieces from his House of Blue Eyes collections, he's also selling pieces from his personal collection of vintage clothing that he's accumulated over the years. His theory? By de-cluttering his wardrobe and breaking down the wall he's built around himself, he may just be able to find true love.
"How can I explain this? Well, at its heart it's an art concept – It's heart art in fact! In the simplest terms possible, the concept is about selling pieces from my extensive styling archive (garments and accessories) that I've accumulated over the years to break down the wall I've built around myself with these wonderful pieces," Jonny explains.
"What I've realised as I've walked through my life is, as I've surrounded myself with gorgeousness through collecting such a vast amount of clothes, garments etc. over the past 25 years, I'm at a place in my life where I want to let go of these things to let love into my life – and meet the love of my life too. So as the customers purchase these pieces, they can know that they're helping me walk one step closer to true love!"
A novel but nice idea, we think you'll agree.
His collection is on sale at ClosetBox now, so if you want a one-off piece from Johnny Blue Eyes (that's probably been worn by a star or two), we suggest you get shopping. And so to finish, we'll leave you with the wonderful words of Johnny.
"I'm sending you dear shopper, a little bit of love, through ClosetBox, with the Johnny Blue Eyes ClosetBox collection!" he says. "So when you receive your little package of beauty, close your eyes, and say 'Aw, I'm gonna send Johnny a little bit of love!" And I'm sending it right back to you babe!"
All together now, ahhh.
This post appeared first on MyFashionLife.com