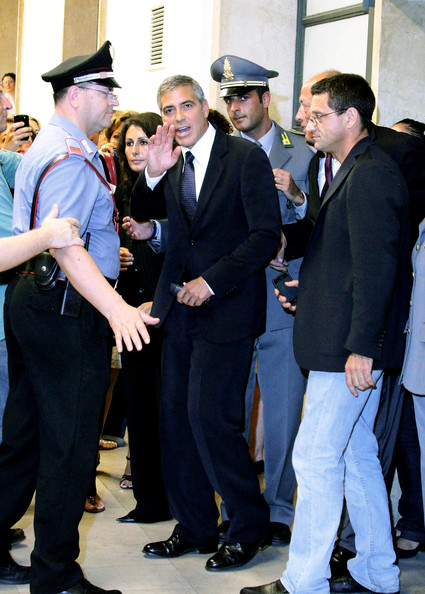 Any Italians wearing GC Exclusive today, the line supposedly set up by George Clooney in Italy, might want to take it off – it's probably fake. And the actor was in Italy over the weekend to give evidence against the fraudsters.
It's not often a celebrity appears in court to give evidence against people who are making fake clothing labels under their name, so when George Clooney appeared in the Italian court on Friday, it's fair to say there was a bit of a fan-frenzy.
But in his typical cool style, the actor diffused the situation – he did, after all, come here for a reason. Namely GC Exclusive, which allegedly doctored pictures of Clooney and used his signature in its adverts – adverts which, of course, George Clooney says he didn't sign and didn't appear in.
He gave evidence for 90 minutes, during which time he ironically greeted Vincenzo Cannalire, the only defendant out of three to show up to the trial – "This is the first time I've ever seen him, so I'd like to say hello, nice to meet you," he said – and examined photographs that showed him promoting the label.
"Here, for instance. I don't smoke and I don't wear that watch," said Clooney, explaining why he was not the man in one particular picture, adding, after a pause, "I also don't wear long jean shorts."
And anyone who saw the dapper Mr. Clooney, clad in a suave navy suit and crisp white shirt, in court on Friday would be inclined to agree.
All three defendants deny charges of criminal fraud, but George remained pretty sure of himself as he left court. "They are taking advantage of a lot of people," he told reporters, according to the Huffington Post. "It seems the justice system is the only way to deal with it."
This post appeared first on MyFashionLife.com