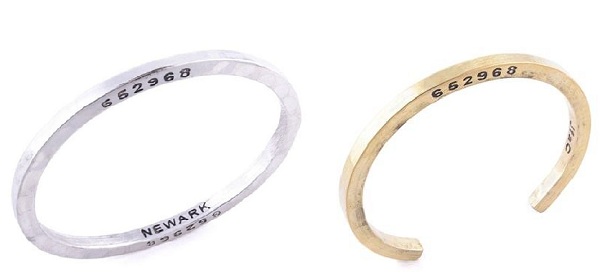 The term 'recycling' can be applied in many contexts, for example, the recycling of plastic; 'vintage', the more uptown term given to the  recycling of your maternal grandmother's Hermès handbag, or, the follow link recycling of an era by way of a particular fashion trend.
But what about the recycling of deadly weapons, fashioned into decorative jewellery items that are worn to adorn and make beautiful, yet with such an ugly and sinister history?
Well, this was the exact question we found asking ourselves when independent jewellery designer, Jessica Mindich teamed up with the mayor of Newark, New Jersey on the Caliber Collection. By-lined as a 'Shot of Style. Jewellery's Secret Weapon', the collection includes slogan tees and chic brass and steel cuffs and bangles made entirely from the shell casings found at gun crime scenes, and illegal guns taken of the streets by the Newark police department, respectively.
Homework Help High School Science Feeling a little confused by it all? Well, it gets even weirder, as each arm-candy status deserving cuff and bangle comes freakishly stamped with the weapon's original serial number. Furthermore, wanting people who purchase these bracelets to understand the seriousness of the message they promote, the Caliber bracelets come packaged in a bag resembling an evidence bag, rather than the usual jewellery wrapping choice of tissue in a box.
Mindich, originally from Connecticut, is a lawyer and founder of charitable jewellery brand, Jewelery For A Cause. She teamed up with Mayor Cory Booker after they met at a conference addressing the heinous issue of gun crime in late 2011. Inspired by Booker's motivation to bring change, and combining their passions, Mindich came up with the idea of creating a jewellery collection to benefit Newark's gun buy-back amnesty program.
The collection serves to promote a positive change in attitude towards gun crime, with an aim to take more guns off the street and turn them into something useful – something quite close to Mindich's heart, after the recent heartbreaking events that took place at Sandy Hook Elementary school in Newtown, Connecticut.
Sales from the Caliber Collection have already been paying back into the community; presenting Newark's police department with a $20,000 cheque after demand for bracelets sky-rocketed, and will continue to fund the buy-back program with the donation of a set portion of proceeds from sales.
A great idea for an even better cause, but do you think the undertones are disturbing? Although the Caliber Collection serves to reduce the number of guns on the streets of Newark, is it also a stark reminder sat pretty on your wrist of what was? Is Mindich's approach to conveying the message of gun crime see too direct? After all, someone pulled the trigger on the very gun you're wearing as an item of jewellery.
Although demand is undeniably strong, would you wear a Caliber Collection bracelet?