[noskim]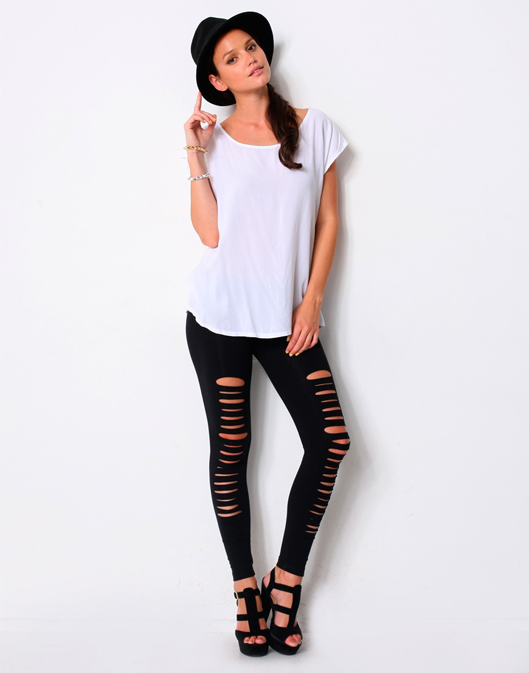 A pair of tights has become just as much of a wardrobe staple as an essential, perfect-fitting pair of jeans or a trusty little black dress. We challenge you to find a girl's wardrobe without at least one pair in there – plain or otherwise.
As it's been a while since jazzy tights have made a comeback and are no longer reserved for those channelling extras from the movie Fame, it comes as no surprise to find heaps of other styles on the catwalks and on the high street. They now come in every colour under the sun, as well as a plethora of different materials – you name it, it probably exists!
So, as we are keen on mixing it up, we are quite fond of these edgy cut-detail tights. We wouldn't recommend wearing them to an interview at a top law firm, but we think they're pretty spot-on for a night on the town with the girls. Especially if the dress code is "dress like you're in a 2013 R&B music video."
They're probably not for everyone, as we can see how the might scream "hobo chic" for some people, but we reckon they would make quite the positive style statement when teamed with the right pieces. We're feeling a long top to juxtapose the flesh flashing, preferably one in a bright colour so the attention remains predominantly on the top half. Even better if it's a printed top. Add some chunky jewellery to really bring the look home!
[/noskim]
What do you think? Would you wear them on a night out or should they be reserved for music video girls after the 9pm watershed?
This post appeared first on MyFashionLife.com