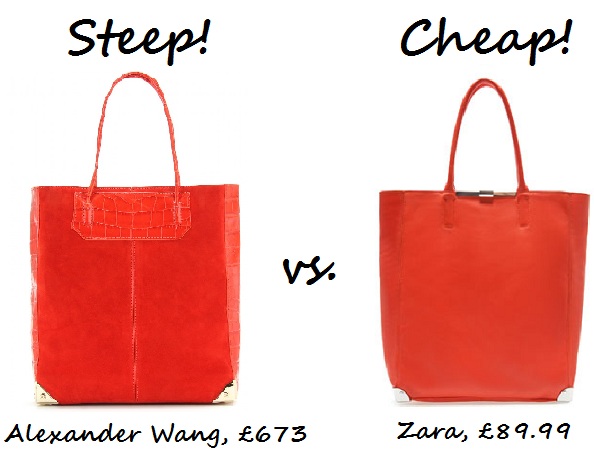 Much like the classic trench coat, or a durable black boot, the leather tote has acquired wardrobe staple status. Offering a roomy interior paired with a versatile shape, it's a must in every style maven's wardrobe.
Given its cool credentials, it's safe to say you'll be making good use of your leather tote, so snapping up a low quality one may not be the best choice for your pocket or style cred. But see, when a stylish accessory beckons, and your budget can't stretch to the extremes that an enviable designer version demands, going for an equally stylish yet pocket-friendly option is your best bet.
Competing for your cash this week are two lusciously coloured totes sitting pretty at either end of the price spectrum. At the steep end is the Prisma tote from the cool kid of NYC, Alexander Wang. In a delicious shade of tang, complete with a luxe croco-embossed leather trimming, this leather and suede bag is an attention-grabbing addition to any simple off-duty ensemble. But with a fashion fund emptying price tag of £673, does this tote get your vote?
On a similarly stylish footing, but with a pocket-pleasing price tag is the leather tote from Zara. This high-end high-street saviour (y'know, famed for those hush-hush purchases that scream Céline, but aren't) will put a tote in your hands for a mere £89.99 – not such a painful deficit when you compare it to the Prisma, right? Are you sold?
Steep: Alexander Wang Prisma tote, £673, available at My Theresa
Cheap: Leather shopper, £89.99 available at Zara
This post appeared first on MyFashionLife.com