[noskim]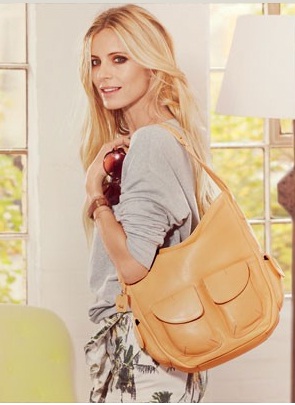 A handbag will make or break your outfit so it's important to find one that goes with different outfits and looks up to the minute, yet timeless. The Radley handbags will make you look effortlessly stylish and will go with any look you're aiming for. In their SS13 collection, the British brand proved they lived up to this standard and released some of the best handbags of the year so far!
The ambassador and face of Radley, English model Laura Bailey who is known for her Vogue, L'Oreal and Marks & Spencer campaigns, says she likes her handbags to look "timeless chic with a bit of an edge" while also being "practical and stylish." It doesn't come as a surprise she chose to continue working with Radley because their collection has, once again, proved to be one of the best lines of iconic handbags this year, ticking all of Bailey's boxes.
Radley are celebrated for their extravagant soft leather bags. So whether you're looking for shoulder bags, small purses and wallets, work bags or totes, they've all got the wow factor! We've listed some of their bags that we absolutely love.
1. Radley totes
Tote bags are perfectly suited for a short trip. If you're going to the movies or the beach and taking essentials such as food, drinks or cosmetics that you want to be able to access quickly, it's useful to have a large and open bag with you. Radley sells gorgeous tote bags in black, grenadine, pink and various patterns. Our personal favourite is the Radley Chiltern Large Tote Handbag in a korma shade!
2. Radley workbags
The Radley workbags are especially pretty. If you need a bag to store quite a few of your belongings in, whether for university or for work, Radley has released a handful of holdalls in beautiful colours that will definitely sort you out. Most of the workbags are big and spacious shoulder bags with grab handles, but if you need to carry something heavier around they also offer a gorgeous quilted work bag on wheels which is perfect for people who need to carry their laptop, sketches, books or magazines around.
3. Radley purses & wallets
The cutest purses and wallets that Radley offers are the ones that carry their brand emblem: a small Scottish Terrier portrayed in different scenes on different items. For instance, on the cover of one purse the little guy is drinking from a coconut, on another, he's chasing a flower on. There's quite a few of them and though we think they are absolutely adorable we understand that you might want to go for something more neutral. Radley also sells plain black zip purses and red flap-over purses. There's something for everyone! Have a look at this site and to through the Radley handbags to see for yourself.
[/noskim]
This post appeared first on MyFashionLife.com