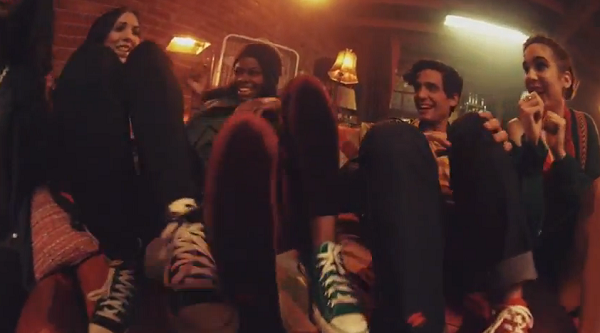 Here's another reason why we can't wait for this pesky winter chill to go away: Converse!
Yep we can't wait until we can pack the knee-high winter boots away and start wearing our springtime shoes.
We don't mean ballet pumps or sandals though – we're talking about Converse, the cool, effortless, colourful sneakers that are not only super-fun and practical, but also make one heck of a style statement.
We think the brand's new "Shoes are boring. Wear sneakers" video campaign sums up how we feel rather perfectly, so make sure you hit 'play' at the bottom and check it out for yourselves. You might get the sudden urge to go outside and do wheelies on your bike though but that's not necessarily a bad thing!
Best of all, we love the history behind this iconic brand. Let us give you a brief history lesson…
We all have Marquis Mills Converse to thank for the sneakers we still love so much, as he founded the rubber sneaker company back in 1908. We don't think he could dream of how successful the sneakers would become over the years – every bit as relevant in 2013 as they were when they first came out!
We think one of the defining moments of the brand was when Chuck Taylor joined the Converse Rubber Company ten years after it was founded in 1918, which was essentially the birth of the All Star name, not to mention the distinctive diamond patterned detailing on the sole.
1958 was when things really started to get serious, as that's when the shoes started to come in different colours – a revolutionary idea!
Click here to head to the official Converse page and check out all the brand spanking new sneakers – as well as the classics we love so much – and don't forget to follow the brand on Twitter and like them on Facebook to stay in the loop at all times.
This post appeared first on MyFashionLife.com
This post may contain affiliate links. We may earn money from the companies mentioned in this post.