[noskim]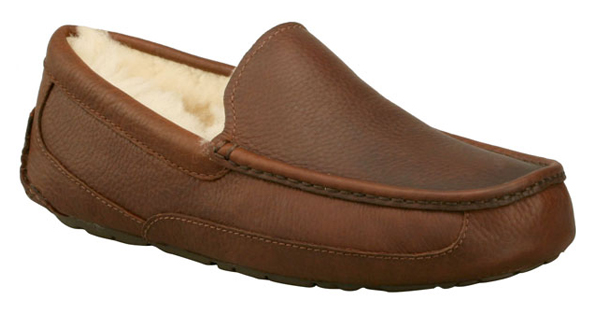 We know it's April, so we're all aware of what type of weather we should be experiencing right now, but things haven't quite gone according to plan this year. Cheers, global warming!
So, while we're lucky to get a teeny bit of sunshine, the bitterly cold winds still make dressing appropriately a sartorial nightmare for both girls and boys alike.
While us girls can get away with wearing our knee-high boots with our spring/summer shorts and skirts (with tights, natch) the boys might be having a tougher time of it, which is why we've taken it upon ourselves to help them out.
We don't really condone the menfolk wearing the same shin-high UGG boots that us girls do (blame Joey Essex for ruining them for us!) but that doesn't mean your man has to give up on them and their fluffy interiors altogether. After all, nothing keeps your feet warmer than a sheepskin-lined shoe or boot, right?
We're quite fond of the UGG Ascot slippershoe available over at Shoemart (whom also available have a great selection of UGG boots for men and women)….and we'd thoroughly recommend treating the man in your life to a pair. Or three.
They come in "China Tea", "chestnut" and "black suede" colours, and if we're being honest we're having a tough time choosing a favourite. If we had to though, we think we'd go for the "China Tea" look above as it's a great colour for spring and won't stick out like a sore thumb either – y'know, just in case your man doesn't want all the attention to be focused on his footwear.
What are you waiting for? Go forth and treat him to a pair!
[/noskim]
This post appeared first on MyFashionLife.com