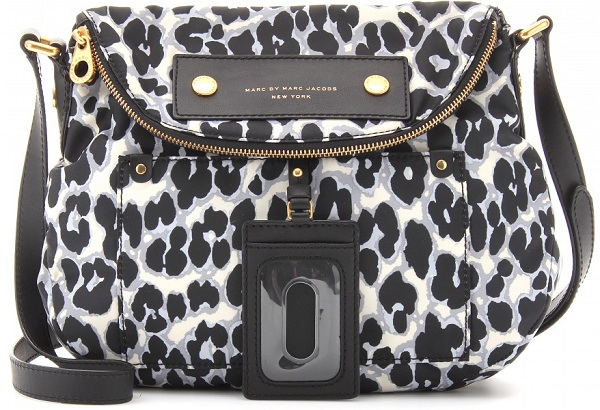 Although some may disagree, a good bag, just like a pet, is for life, not just for Christmas/Easter/birthdays/self-presenting days.
It may be a rarity to come across a bag that encapsulates the art of practicality with good aesthetics, but this week's Yay or Nay option packs quite the punch! Enter the Marc by Marc Jacobs Natasha Animal-print shoulder bag.
Splashed in a snow leopard print, the monochrome arm candy is very apt for the fashion world's current obsession with living in just two colours: black and white.
Adorned with gold-tone hardware, logo plaque and a handy leather address tag, the Natasha shoulder bag would make a great option for adding interest to an off-duty ensemble, or punctuating a cool evening look with a touch of print.
Need some more time to contemplate clicking the Natasha shoulder bag home? We weigh up the Yay's and Nay's below:
Nay
Trend-centric – Although a splash of print is always welcome in our wardrobes, animal print is a little tricky. Classic leopard print is a perennial wardrobe favourite; but snow leopard may feel a little trend-tastic, in line with spring/summer 2013's love for monochrome. It's worth considering whether you want to invest your money in a colourway you may easily move on from.
Size – Although the endless pockets mean you'll have a ball carrying your life in this bag, and the Natasha shoulder bag being more generous in size than most dinky shoulder bags, avoid if you're a tote lover/folder hoarder. This option is better for an easy day, or night out, carrying minimal items.
Too casual – We would consider pairing the Natasha shoulder bag with our favourite party dress for a burst of print, but the slouchy feel, address tag and heavy hardware make it more day-appropriate than evening elegant. Maybe drinks with the girls would be a better occasion to show this bag off.
Yay
Print – The bag's punchy print promises to liven up any outfit, especially if you're a lover of grey, navy and black! It's the easiest way to accessorise when you least feel like.
Practical – Boasting an adjustable strap, two front wall slot pockets, one back wall zippered pocket, you won't be running out of space to fit in all the essentials, with room to spare! Perfect for when you're hotfooting it around the city, running an endless list of errands.
Price – Marc Jacobs' diffusion line is easier on the pocket than its high-end sister. At a not-so-princely £150, you won't have to find ourselves playing intertops online casino just to raise funds for this arm candy. We're definitely pleasantly surprised with the Natasha shoulder bag's reasonable price tag