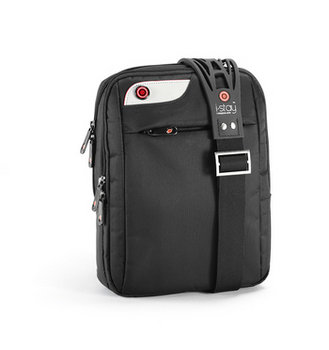 Over at BagsDirect they've unveiled a fantastic new range of bags with one unique design feature – the 'i-stay' bag strap. The i-stay strap is cleverly designed to relieve the weary traveller from the discomfort of carrying a heavy shoulder bag. With a stylish web weave design and available in a range of colours, the i-stay is also a fashion accessory in itself and one that looks as good as it feels. No one should have to sacrifice comfort for style when they can have both right?!
Those who travel regularly for either work or pleasure will often have an iPad or tablet in tow and will no doubt be all-too familiar with the aches and pains caused as a result of carrying around heavy gadgets on a regular basis. The pain caused by a bag strap repeatedly digging in to the shoulders can be unpleasant on short trips and excruciatingly painful over time, possibly causing strain and muscular damage.
The i-stay bag strap is designed in such a way that spreads the bag's weight evenly over the shoulder thanks to its flexible web-like design. The strap itself is made from flexi grip material and acts as a pad that moulds to your shoulder. The strap on a standard iPad or tablet case concentrates the entire weight of the bag on a small area of your shoulder which accounts for the niggling pain. The i-stay not only bears the weight of your bag's contents with greater ease, but can ensure that it won't slide off your shoulder – even if you're running to catch the last train home, the i-stay will do as described and stay put!
It gets better – the i-stay strap can be removed and reattached to another bag, so long as it has corresponding 'D' shaped rings which feature on most tablet and laptop cases – versatile stylish and good for your health (now that can't be said for many bags!). The i-stay range has even been commended by the College of Chiropractors for its ability to eliminate aches and pains – physiological proof that no traveller should be without this bag!
For your chance to win an i-stay 10.1 inch iPad/tablet case with the innovate non-slip design, simply like the BagsDirect official Facebook page at facebook.com/BagsDirectUK and you'll be in with a chance to own the perfect travel companion.
Best of luck and happy travels!
This post appeared first on MyFashionLife.com