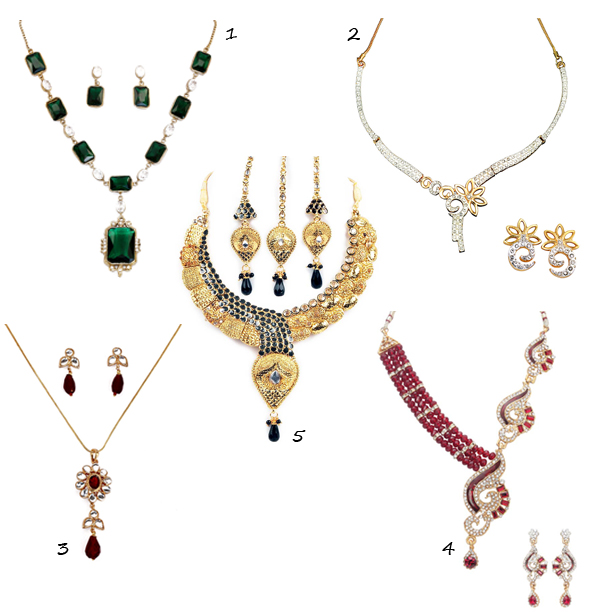 Let's face it ladies, an outfit is never really complete without a fabulous, glamorous piece of jewellery, is it? Elizabeth Taylor definitely knew that, and deep down, every woman does too. Today we're focusing our attention on the best of the best; indulgent, rich and super stunning pieces of neck candy.
Online jewellery shopping has never been easier and we've selected five of the most intricate, drool-worthy necklaces from Bagittoday.com to prove our point. Which one's your favourite?
1.Touchtone necklace set. Emerald is the colour of the moment – Pantone said so, the Wizard of Oz said so, and now we are saying so too. This antique gold plated, Victorian look beautiful necklace is set with rhinestones and faux emerald gems and will add colour and class to any evening outfit.
2.Oleva necklace set. If you can't quite decide between yellow gold or white gold – or you want to mix and match the rest of your jewellery and accessories – then this is the necklace for you.
3. Touchstone pendant set. This pendant is perfect for those understated ladies, events, or looks. If you have a particularly bold or loud outfit and want to tone down the jewellery, this is the perfect compromise. Great to wear with halter-neck dresses or plunging tops.
4. Adhira side design necklace set. If you're after something a little bit different, something nobody else has seen let alone will be wearing, then we'd fully recommend this necklace. Keep the rest of your outfit simple as you'll want all the focus to be on your neck.
5. Adhita dazzling black necklace set. We instantly thought o Princess Jasmine when we saw this necklace and that "fit for royalty" theme is very apparent in the intricate and rich design. Understated is not an option; perfect for those go big or go home parties!