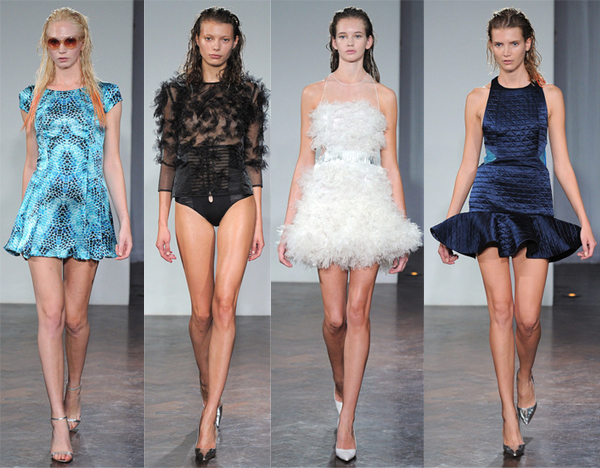 Fashion month for those of us who are used to the chaos, the dreaded fashion flu, queuing for the toilet for 30 minutes, sipping warm champagne and balancing on heels as tall as Nelson's column and as thin as a pigeon's brain – is stressful.
All those trials and tribulations may be worth it to catch a glimpse of the 2014 spring/summer collections from the world's top designers, but it's equally as important to know just how to relax after it. As we draw closer to the end we can't wait to take a much deserved breather and we're sure you can't too.
So here are our top-six ways of relaxing after the madness of fashion month!
A Night at The Mayfair Hotel
This is undoubtedly our top choice. The fashion-appropriate cocktails at The Hotel's new Shoe Bar may be pricey at £14 each, but the Velvet Mule, the Peep Toe, the Mary Jane, and our particular favourite the Red Stiletto all come highly recommended. They also stock an excellent supply of style-conscious cupcakes, whilst delightful runway-ready facials can be booked throughout the week.
A Quality Massage
After days of endlessly ogling what you'd like to fill your wardrobe with and wear to next year's social calendar, going to a place where all you'll need to wear for a while is a towel – is our idea of bliss. A little splash of aromatic oil, soft background music and some firm yet experienced fingers and you'll soon be feeling relaxed enough to find the next event in the fashion calendar. You could even think about booking yourself a trip away for the weekend and visit a spa.
A trip to the movies
Apart from having to queue (for popcorn), going to watch a movie is as far removed from fashion week as possible. You can wear something comfy and if you let the man in your life choose the film and its rubbish – nobody will blame you if you decide to catch up on a bit of beauty sleep.
Online Bingo
When we don't need any beauty sleep, we must confess we love nothing more than a night of playing online Bingo at Butlersbingo.com. we love the thrill of playing bingo, not knowing what numbers are going to come up, and the best part? The best part of playing bingo is that someone will definitely win the prize money (or biscuits) so everyone is in with a real chance. It's a great way to relax on your own with a bit of chocolate and a nice cup of tea or, why not invite the girls round and crack open a couple of bottles of wine – house-wine of course. Agree to share your winnings and you never know you might just have enough to buy that statement piece you spied on the runway.
Reflexology
Nothing quite hits the spot after fashion month like a good session of reflexology. Expert hands break up any little pockets of crystals that may have formed in your feet due to walking in designer shoes or any slight over-indulgence at the Shoe Bar. An hour's session will leave your feet feeling like you've been walking barefoot through a shag-pile rug all your life, your calves will be knot-free, your buttocks unclenched and it will restore your state of pre-fashion month mental calmness.
Retail Therapy
Having done everything else you can think of to relax, there's only one thing left to do and that's go shopping. Smart casual attire is definitely the order of the day for a bit of retail therapy, nothing too figure hugging and definitely no shoes that are going to require you to sit down halfway round. That's not to say you can't buy that new figure-hugging dress you've got your eye on or those new six-inch red stilettos that will catch everybody's eye. I mean what's a girl to do – you've got to get yourself in the mood for the next fashion extravaganza – haven't you!