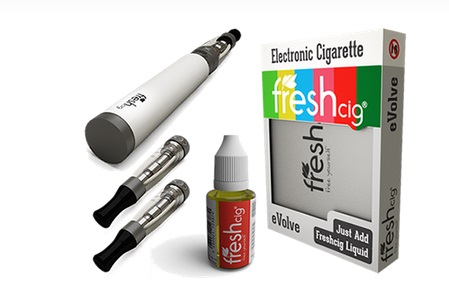 With New Year's resolutions now in full swing, we're offering you the chance to try to kick the tobacco smoking habit this year with the help of electronic cigarettes – a healthier alternative and one that can help to save more money to spend on life's little luxuries.
We're giving you the chance to win one of three Freshcig eVolve electronic cigarette starter kits!
Unlike conventional cigarettes, e-cigs don't contain tar or any of the 4,000 chemicals their tobacco counterparts include. They are also much less expensive, with the average 20 a day smoker able to save around £2,600 a year by switching to e-cigarettes.
The Freshcig eVolve starter kit includes a refillable e-cigarette device which provides a similar sensation to smoking a tobacco cigarette. The kit provides everything you need to get started including:
30ml Bottle of Freshcig Liquid Included
650mAh Battery
2 Refillable Refills
USB Charger
Aluminium Presentation/Carry Case
Quick Guide
To enter simply add your email address below and press sign up. Three winners will be chosen and notified once the competition closes.
[mc4wp_form]
The competition closes on January 31st 2014. All entrants must be aged 18 years and over.
Good luck!
This post appeared first on MyFashionLife.com