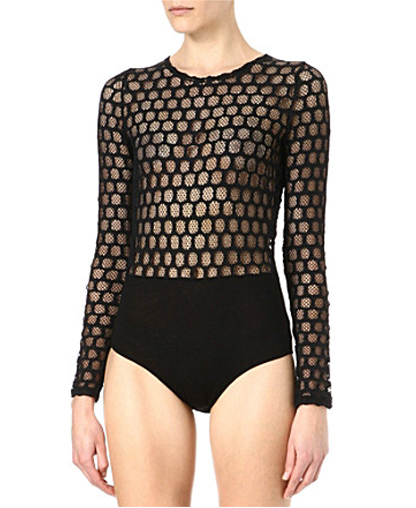 You don't have to be channelling Miley Cyrus circa… well, now… to wear a mesh body.
There's something quite sexy, daring and somewhat liberating about wearing mesh, but it doesn't have to be saucy if you don't want it to be. This Sandro Edito mesh body is a versatile piece; wear it with a black bra or a cropped top of a different and contrasting shade to up the sex factor, or with a slick cami underneath for a more muted and understated vibe.
This Sandro Edito mesh body is accented with two layers of openwork lace, has long sleeves – you know, so you don't feel totally naked – and is even stretchy so you can slip in (and out) of it with ease.
Wear tucked inside a pencil skirt for a chic look, or tucked inside some fierce skin-tight leather leggings and sky high heels for the ultimate piece of clubwear.
Sandro Edito mesh body, £108.50 £77.50
This post appeared first on MyFashionLife.com