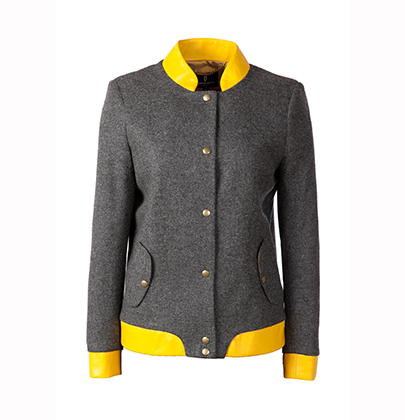 The baseball jacket is almost as much of a staple as the classic Chanel boucle jacket.
It makes a statement regardless of who wears it and how they style it – Cara Delevingne and Rita Ora are just two of our face celebs who have this look down to a fierce and fabulous t – and we haven't even mentioned how warm it can keep you, either.
So, although the classic baseball jacket is an iconic piece for a reason, we are pretty chuffed to learn that it has had a bit of a make-over thanks to Katherine Hooker. After all, who doesn't love to mix things up?
Katherine Hooker has designed a brand new version of the American classic, but with a smarter and more mature twist. This means it's totally acceptable to wear your baseball jacket to a big office meeting, or any other occasion where its more playful and casual counterpart wouldn't have sufficed.
The Katherine Hooker baseball jacket comes in grey lambswool with a canary yellow trim, or if you fancy something on the darker side you'll be pleased to know it also comes in navy. Which one will you go for?
Katherine Hooker baseball jacket, £530
This post appeared first on MyFashionLife.com