The times where radio lead sports updates have sadly passed, but the world of sport has a fresh and efficient replacement in application systems. In todays market there is an array of applications and sources that provide in depth, on point stats and updates with a friendly community feel.
ESPN Sports centre
ESPN need no introduction, their TV broadcasting has gained them extraordinary respectability. The American establishment has now opened their spectrum into the application market through the ESPN Sports Centre, a source that provides an instant sports feed involving videos, news and standings. This excellent multi-sports centre covers all current affairs and news, fans can also share their own verdict on the issues with the apps efficient link to Twitter. Furthermore, this app is astonishingly free so waste no time in downloading the ESPN Sports Centre.
Paddy Power
With the world of mobile gaming exploding in popularity of late Paddy Power have also dipped into this market. The app offers both a casino and a sportsbook, so whether you want to play online bingo or place a bet on this football, you can do it with this app. The Paddy power app is free to download and will definitely keep you entertained throughout this summers World Cup
CBS Sports
Over the other side of the Atlantic, arguably America's largest sports broadcaster CBS has launched their very own application which is free to download on iTunes. The CBS Sports app provides a vast variety of services, one of these is up to date, in depth analysis of NFL, NCAA, MBL, NBA, NHL, PGA Golf and MLS contests all across the United States. Fans however can make this feed personal to their own interests receiving notifications only concerning teams and players they support. There is also a fantasy aspect added to the application, this addition allows users to run their own NFL team for example, they will then manage this team facing off against friends and other users of the app.
Sky Sports Live Football Score centre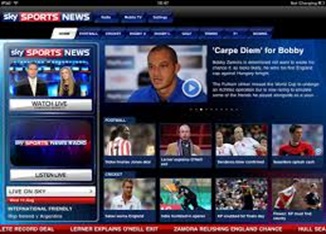 Sky Sports aren't new to this market of sports applications, although their free Live Football Score Centre app is still one of the front-runners in this emerging technology. Sky Sports' application is essentially the world's football result source, its flawless Vidiprinter feed offers instant up dates as soon as a goal is scored, a foul is committed and a substitution is made. The application provides these updates through a significantly informative commentary and relevant images of the action, the app doesn't stop there however, it further provides betting odds and precise statistics such as line-ups of the teams and the league tables.
Team Stream
Team Stream is an application which offers its service in a slightly more community based fashion, updates are provided through local, national and even international news as well as blogs produced by users. This application shouldn't be wrote off, it is an iOS version of the very highly deeply Bleacher Report which is made up of a network of experienced journalists and media experts. Team Stream allows users to choose what team they are interested in, all of the news and affairs of that particular team are displayed to the user.
BBC
Finally, BBC like ESPN need no introduction, they are without doubt the most well respected broadcasting establishment in the world not only England. Their self-named application supplies a phenomenal environment to receive sports hottest news and results.