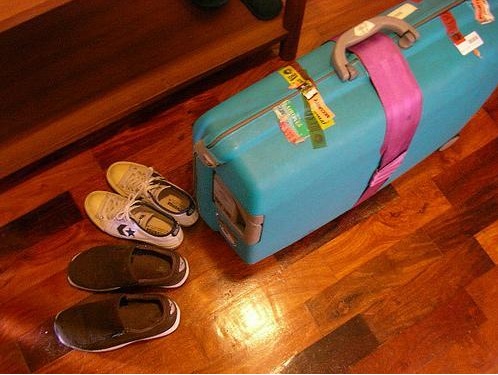 It's all too easy to pack too many clothes when you're going away for the week, and you end up lugging a heavy case around when you've no need to. Of course, if you're travelling by plane you're limited on weight, and that can actually help you narrow down your choices more easily.
However, here are a few tips to bear in mind when you're packing so that you can travel light.
Start off by putting all the clothes that you might want to take with you out on the bed. Then be strict with yourself and take half the stuff on the bed away. It may seem drastic but it will help you to focus and it's a good way to remind yourself which clothes you take on holiday year in year out, carry round for the week and then bring back unworn.
You may also want to buy some new items to take away with you, such as something from Superdry's new collection, so make sure you do holiday clothes shopping before you start the packing process. The key to a good holiday wardrobe is to choose outfits that make you look good and are also comfortable.
Plan your outfits day by day for the time you are away. What activities might you be doing? You may need some sports kit and shoes as well as just beach wear. Think about what kind of places you'll go in the evenings – are there going to be any dressy occasions? If there's an item left in your packing pile that doesn't have a specific reason to be there, leave it at home.
Think about how different items will coordinate with each other on your trip. Taking clothes that go nicely with a range of other items in your case will reduce what you need to take and also mean that you spend the week looking coordinated, rather than a little thrown together.
As for how you fit everything into the case, it's good to take an organised approach. Don't just ram it all into the bag or you'll spend precious holiday time ironing and getting the creases out of everything. Place shoes at the bottom of the case and fill the spaces around them with smaller items like underwear – leave no space unfilled as it helps to keep everything in place during the journey.
Clothing should be rolled; this maximises the space you have in the case and also is a great way of keeping items relatively crease-free. For tailored items, turn them inside out and tuck in the sleeves.
Even though you may have checked the weather and be expecting a hot week, don't forget that in the evenings in hot places, the temperature can suddenly drop, leaving you shivering if you're not prepared. Take a couple of cardigans or a light jacket that you can pull on when the heat goes out of the day.
The more you travel, the more adept you become at packing. It's well worth the effort of thinking through the process before you leave home.
This post appeared first on MyFashionLife.com