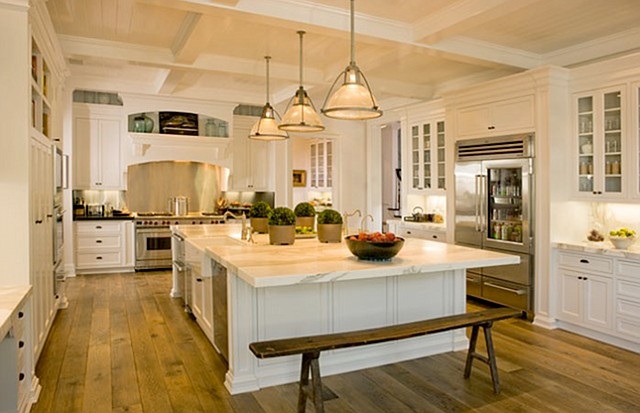 You do not have to spend a fortune if you want to give your kitchen a makeover. Which Magazine suggests that you can spend £8,000 or more on a new kitchen, but unless you're thinking of installing a custom-built Italian marble work surface, here are a few ideas that will help you design a quality kitchen at a fraction of the cost.
Draw up your budget
One of the first things that you must do is actually draw up a budget. Go online and note prices. You may decide to splash out and install a natural wood floor from www.easystepflooring.co.uk, for example, but you must make sure that you have sufficient funds in the bank to cover the rest of your refurbishment. It's also a good idea to have a contingency plan, should the units or other necessities not be available at the time when you wish to carry out your modernisation.
Old kitchen units can look dated
One of the easiest ways of upgrading your kitchen, without spending a fortune, is to concentrate on the doors of your units. If you simply attach new doors to your existing units, you'll give your kitchen a totally new image at a fraction of the cost of a new fitted installation. You can also renovate your work surfaces. Architectural salvage yards are always useful, and so are auctions of discarded stock from bankrupt firms. A thorough internet search will give you a list of auctions right across the country.
Uniformity is key to a modern look
If your budget won't allow you to repaint the room, try to ensure that your fixtures and fittings are in a similar style. Minimalism is all very well for a compulsive obsessive, but most families tend to congregate in the kitchen, cook in it, as well as use the room as a dining area. If you are going to paint your kitchen units, try using bright colours. You should try to ensure your unit's handles and doorknobs are the same. UK TV Home recommends you use stencils on some walls and cupboard doors for extra effect.
Replace your curtains with some modern blinds
The Huffington Post offers a useful guide to inexpensive ways of transforming your kitchen. Kitchen curtains often look shabby and dingy. You could make your kitchen window into a feature with some bright, washable contemporary blinds that will enhance your new décor. Place some herb pots along the window sill, for an additional feature. They'll be useful as well as decorative.
Good lighting is vital
Bad lighting can make a room look drab and uninviting. You could always start to improve your lighting by removing any overhead fluorescent tubes and replacing this with under cabinet lighting; mix this effect with some spot lights and hang a pendant light over the table.
Most importantly, make sure that the room will be easy to cook in and keep clean. Once you've decided on your décor, try to stick to it. You'll be so pleased that you've managed to create a beautiful room at budget cost, once you have the time to sit down and admire your new surroundings.