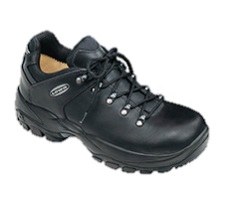 The LEANDRO WORK Lo S3 is the latest low safety shoe from the ELTEN/LOWA WORK COLLECTION series. It meets the needs and the performance requirements of the safety category S3 and is available in the size range 6.5 – 12 and 13. It comes complete with full, padded bellows tongue which prevents the penetration of dirt into various pressure points commonly found around the inside of work shoes. The padded upper edge provides a slightly higher wearing comfort and prevents more painful pressure points also found in other safety footwear. High-quality full-grain cowhide leather is used for the upper.
This material is wear-resistant and breathable. The leather lining used for this is breathable and tear-resistant. Ergonomically shaped steel toe caps protect the wearer of the LEANDRO WORK Lo S3 against impacts and pressure loadings. The full-length LOWA Soles are exchangeable, sturdy and antistatic.
The metal-free penetration protection allows more flexibility and comfort when working on the knees, and also an improved foot-feel on uneven surfaces. LEANDRO WORK Lo S3 is equipped with the double-density profile sole LOWA ATC 2000 which provides for excellent slip resistance. Furthermore, the sole is antistatic, abrasion-resistant, heat-resistant up to approx. 130° C and flexible at cold temperatures to approx. -20° C. Safety Boots could be a thing of the past with new lower cut safety footwear.