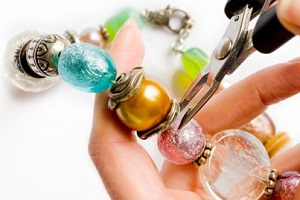 For those who have enjoyed working with their hands and creating pieces of jewelry, the satisfaction may stem from being able to fashion elegant trinkets out of stones and wires using nothing but creativity. However, there are those who want to move beyond creating jewelry pieces as a form of hobby to something that they can earn a living from.
Starting a business can be the most exciting and yet terrifying experience one can have. While you may be thrilled that your passion is finally being revealed for the whole world to appreciate, there's always that underlying fear of your business not being able to speak to its intended market and crashing before it even left the ground. What you must understand, though, is that this fear is natural. With proper planning and execution, you should not have to worry about your budding jewelry business going down the dumps.
It's All in the Niche
With any kind of business, you need to cater to a specific target market. While it is true that most women appreciate rings and bangles, not all of them will have the same preference for a certain kind of jewelry. You can attempt to load your store with all types of jewelry from gothic to the bohemian, but this will only cause you to increase your inventory of jewelry pieces requiring more capital on your part, and you will have to market your store to all women which can drain your resources with the endless need for advertising. On the other hand, if you pick out a certain niche that you can specialize in, you will be able to bypass those two disadvantages.
Say you are starting a jewellery business that specializes in bohemian jewelry, conceptualizing your business does not have to be a problem since you work within set bounds. If you make the jewelry you sell, then you can focus simply on producing pieces with Indie, gypsy flair. On the other hand, if you purchase the items in your inventory from other jewelry makers, then you can employ a more streamlined manner of choosing items that will go in your store. Also, since you're more likely to pick a niche that you feel passionate about so you can employ your expertise and make better decisions with regards to creating or choosing pieces that will go into your inventory.
Moreover, niche marketing allows you to command higher prices as a result of your perceived expertise. Secondly, because you have a very specific inventory, you only need to market your brand to select individuals who you know patronize the items you carry.
Choosing a Niche
If you're still confused about how you can find a niche for your jewelry business, you can always start with a problem. Ironic as it may sound but isolating a problem which you feel confident enough to address is an effective way to find out what your jewelry store's niche should be. To start the process, try isolating a problem which you can address with your jewelry business, a process advocated by Handmade Results. For instance, one problem you might encounter involves matching jewelry for bridesmaids. If this is the kind of issue you want your jewelry store to solve, then the niche you're looking for would have to be wedding jewelry.
Marketing Your Niche Business
Marketing can be a major stumbling block for those who have just started with their jewelry business. While you may be passionate about your business, the fact is that not everyone is born with the entrepreneurial spirit that is needed to market their goods successfully. The first marketing trick that any jewelry business owner must master is advertising their pieces locally.
This may involve walking into the different boutiques within your area and asking around if they would be interested in carrying your line of jewelry. You can also use your niche to market your business by tying up with establishments that cater to the same target market as you. Take for example the wedding jewelry niche. You can tie up with wedding planners so that you can get your name out there as well as get referrals from them.
Taking Your Business Online
Of course, if you want to reach a wider audience which consequently translates to more sales, then you ought to take your business online. According to Wix, one huge jewelry retail company attributes 36 percent of its profits as sales made online.
With consumers preferring to make purchases online because of its ease and the wide variety of options that the internet offers, it's impractical for jewelry business owners to not make the transition online. If the technical know-how is what you're lacking, then you can always link with huge online stores that can give you the space and the technical support to market your trinkets in the World Wide Web.
This post appeared first on MyFashionLife.com