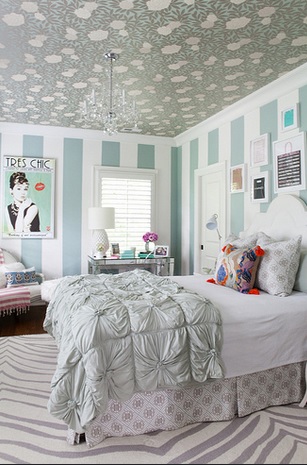 Are you looking for inspiration to decorate your teen's bedroom? It can be difficult knowing what theme to opt for. As your children grow, their tastes and preferences change frequently.
If you have no idea what goes on in your teens mind then it can make decorating their room that little bit harder. Whether you're looking to buy new furniture such as Divan Beds Centre – bed bases, or whether you're looking for colour ideas; below you'll discover some of the best teen bedroom ideas to give you a little inspiration.
Creating a transitional bedroom
If your child is in that difficult 'tween' phase, a transitional bedroom décor is ideal. Your focus should be on playful colour schemes. Focus on inexpensive décor too. After all, their tastes will quickly change so you don't want to spend a fortune updating the room only to have to redo it a few months later.
Creating a statement using paint is an inexpensive and creative way to update the bedroom. You can paint large circles for example for an eye catching effect. Then once your teen grows out of it, you can simply paint over the wall and start again.
Adding a study area
Your teen will need a quiet place that they can go to study. So whatever theme you opt for, be sure to include a desk and lamp. They can also store photos of their friends there and add their own personal touch to the area. Adding book shelves above the desk also provides storage space for text books.
Get a little online inspiration
The internet is a fantastic place to look for inspiration for your teens room. Pinterest has a great page dedicated to teen bedroom ideas. You'll find hundreds of images online and you can also join forums and get advice from other parents.
Brighten it up
Let's face it – teenagers can be temperamental. If you have a grumpy teen, be sure to make their room bright and cheerful. Creating a happy, safe place where they can relax will help to calm their mood and therefore make your own life easier in the process.
Teen girl bedroom ideas
Girls are generally easier to please when it comes to bedroom décor. If all else fails, go for a glam, chic look. All teenage girls love a bit of glamour. Mirrored furniture, chandeliers and a well-made chic bed will all create the perfect teen girls bedroom. HGTV features a great example of a glamorous girls room.
The key to creating the perfect teen room is to know what your child likes. Get them involved in the design process. They will be a lot happier if they have some input into what their room actually looks like. Remember your teen is going through an independent phase. They are starting to find out more about themselves and decorating their own room allows them to express themselves in a healthy way.
Overall there are many different ideas to be found online if you're stuck for inspiration. Decorating your teens room doesn't have to be a struggle.