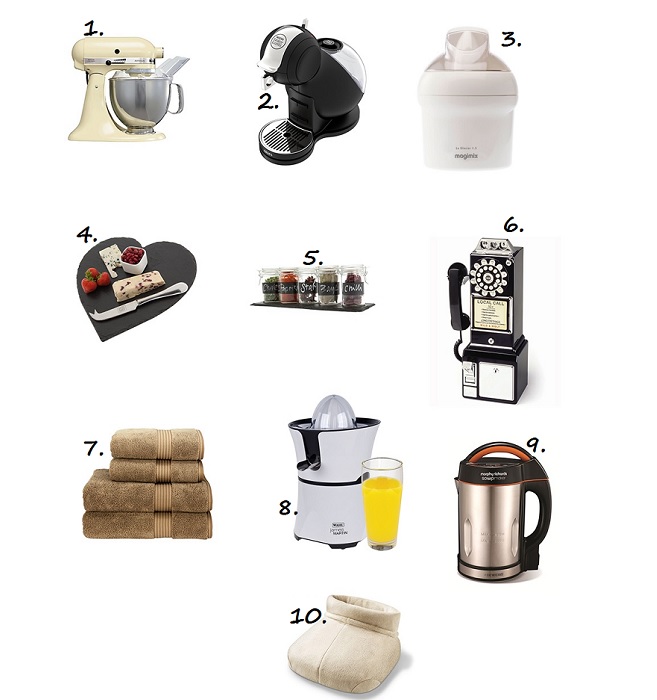 Home is where the heart is! We couldn't agree more. When you've had a hard day at work, there's nothing like coming home, putting your feet up and relaxing in front of the telly. So, naturally it's important that your home is super-comfortable and filled with things you love.
That's why this Christmas we whole heartedly recommend gifting a loved one with a pressie for their home.
Kitchen essentials are always a necessity – coffee makers, juicers, ice cream makers, soup makers, spice jars, you name it. Practical kitchen items come in handy and are always appreciated. If however, your friends aren't on the domesticated side, go for decorative items such as ornaments, a great painting for the hallway or quirky pieces like this diner phone make for great gifts.
And for those that prefer the outdoors? A lawn mower for avid gardeners maybe?  Or a BBQ set for those fun summer barbeques and a nice set of garden chairs for the warmer months.
From luxury items for the bathroom like this Christy Towel set to kitchen and garden must-haves, we've searched high and low for the best gifts! Here's our top 10 Christmas gift ideas for home lovers.
1. Kitchen Aid Creamer 2. Krups Nescafe Dolce Gusto Melody 3 Coffee Maker KP22084 3. Ice Cream maker 4. The Just Slate Company Heart Cheese Board 5. The Just Slate Company 5 Spice Jars 6. Wild Wolf 1950s Diner Phone 7. Christy Towels 8. James Martin Citrus Juicer 9. Morphy Richards Soup Maker 10. Electric Foot Warmer and Massager
This post appeared first on MyFashionLife.com