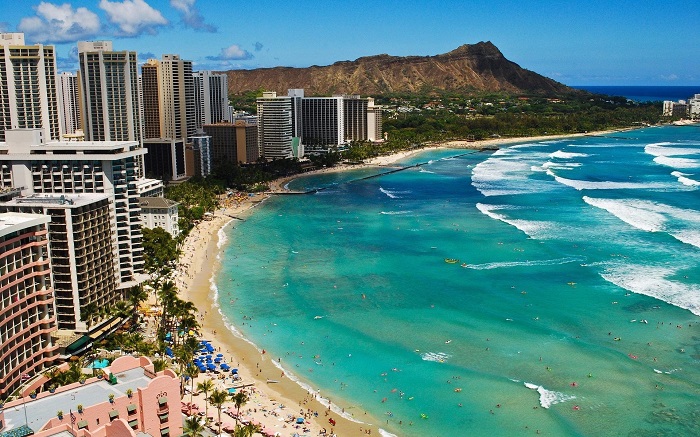 Due to the excitement of planning to travel to an exotic destination, you may miss a few things to place in your suitcase.  And, in case you've never been without, it's an anxiety worth missing.  Therefore, to ensure you're enjoying your stay and not wishing you brought along additional items, take a look at the following information related to packing right for paradise.
Casual or Dress?
Women love to look great any time, but it's also important to feel comfortable and dress appropriately per occasion.  For example, on the beach, bikinis, shorts, and t-shirts are great.  If you're planning on doing a bit of strolling along the ocean, but don't like to go barefoot, a pair of Rainbow sandals or Crocs will do just fine.
If you're headed to a fancy lunch or a night out on the town, you'll want to bring along formal attire.  If you like dressing casual, call ahead or do research regarding appropriate attire. "Resort wear" is a popular term in Honolulu, but what does that mean for those who are not natives to the area?  Ladies wear casual skirts, sun dresses, capri pants, and dressy shorts.  However, making reservations before you leave saves you from stress and makes room in your suitcase for other necessities.
Hot or Cold?
Of course, you're headed to Hawaii for the warm, fabulous weather, but it does get cold at times, especially in the winter season.  It's advised to bring a light jacket or heavy sweater to wear around your waist and throw on if it gets chilly.  It can get windy on the beach or by the pool, so consider purchasing moisture wicking swimsuits.
Skin and Eyes
The sun's rays are a welcome blessing, but too much does damage to the eyes and skin.  Therefore, bring along SPF appropriate sunblock and polarizing sunglasses.  Don't think the number SPF you wear at home is good enough for Honolulu.  The last thing you want is to feel miserable due to a bad case of sunburn.  Like a horrific haircut, there's not much you can do once burned except wait for time to pass. If you burn easy and want to bring your own protection, remember airlines won't allow containers exceeding more than 3.4 ounces.  Otherwise, you'll have to ditch your sunscreen or check your luggage.  Along with sunscreen and sunglasses, bring lip balm with SPF and a large-brimmed hat.
Maps, GPS, and Apps
If you plan to venture away from your Hipmunk hotel, ensure you won't get lost to make the most of vacation time.  If you're renting a car, bring along your own GPS device rather than assume you'll be able to get a vehicle with a system.  Otherwise, download a number of free or paid GPS-like apps to your phone.  If you get lost easily, consider hiring a guide or go on a tour with others; that way, you'll learn more about the location and possibly make new friends.
Camera and Video
Smartphones have high-pixel cameras and straight-to-social-media applications.  But, if you're planning on taking a lot of shots or capturing video of you surfing, hiking, or engaging in other sports, consider a high-def camera or a GoPro.
Bags and Packs
If you're a hiker and like to have your hands free, bring along a backpack.  Daypacks feature numerous pouches, so you may store your wallet, jewelry, and toiletries.  Packs with water pouches come in handy if you're planning on taking long hikes, cycling, or engaging in other calorie-burning activities.
Lastly, bring moistened towelettes to stay sweat-free as well as bug repellent.  If you get reactions to bug bites, do additional research related to native insects of Honolulu.  Regarding your health, be sure to have contact information of local doctors.  Moreover, if you take medicine due to a condition, pack extra in case you misplace your items.  Much-needed medicine is something you should not pack with luggage you check at the airport; in worst-case scenarios, an airline may send your luggage to the wrong location and you'll have to worry about getting more medicine in case of an emergency.  Also, if you wear contacts, bring extra pairs or your glasses.  Hawaii is beautiful; you want to be sure you don't miss seeing its beauty!
Lynn Sanchez works as a flight attendant. She loves to share her layover experiences. Look for her posts on many vacation and style blogs.
This post appeared first on MyFashionLife.com