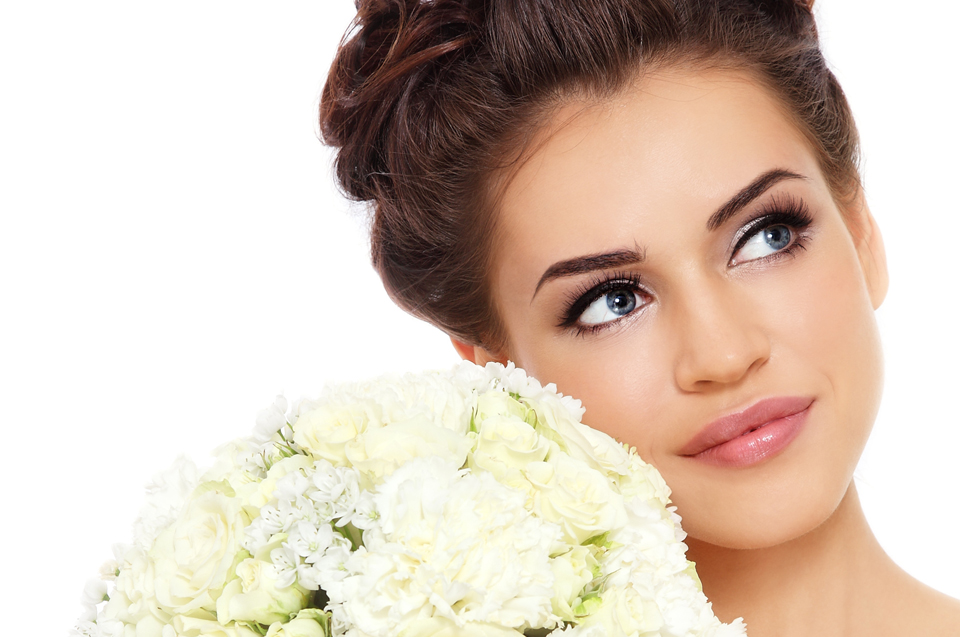 Your wedding day is a day that will, quite literally, be immortalized. Various pictures, keepsakes and videos will all be taken of your big day so you can remember it fondly for years to come. It's because of this that every bride wants to look her best on her wedding day, which is why choosing the right makeup artist is so important. After all, hiring a skilled makeup artist to do your bridal makeup is one more thing you don't have to worry yourself over on the big day! So, how do you know which makeup artist is right for you? Here are some things you should look for in your wedding makeup artist.
Do They Display Professionalism?
You are putting your wedding look in the hands of this person, so make sure that you hire a true professional to do the job and not just a friend that does makeup on the side. You should also not assume that just because someone claims to be a professional makeup artist that it means they have talent. That's why it's really important to:
Find out what level of experience they have.

See samples of their work – a true artist can create a look with the use of delicate colors and textures that best enhance your skin type and tone.

Find someone who knows how to bring out their clients best features.

Find someone that understands camera techniques as well as lighting and how the makeup will translate to photographs and video.

Find someone who knows what colors to use for the time of day your wedding takes place.
You also should look for someone who has been trained in the art of photographic makeup and is licensed as well. It's possible that your local salon offers makeup services, but it's not always going to be done by someone who is a true makeup professional so you'll want to ask about their experience.
Great resources for finding makeup professionals to create your bridal makeup look are other wedding professionals for referrals or helpful apps like UrbanClap.
Do They Have Dependable Skills?
A professional makeup artist should have a portfolio of images to show you. You will want to take a look at that to make sure none of their former brides resembled the bride of Frankenstein on their big day. It's ok to expect that they will be able to create a look for you that not only complements the style of your gown, hair and colors of your bouquet, but also enhances them. Bridal makeup done the right way is clean and elegant and will stand the test of time. You should look for consistency in their work so you know you're getting someone who knows what they are doing.
Are You Compatible?
So, you may not feel the same spark you felt when you met your fiancé for the first time, but you should choose an artist that puts you at ease and has a personality you like. You don't want to sit around with a sour-faced and unpleasant makeup artist on your wedding day. Also make sure you choose someone who can take a bit of criticism. If you don't like what they're doing or it doesn't meet your standards, speak up. It's your wedding day after all, and the bride should get what she wants.
Do They Do Trial Runs?
It will help to put your at ease as well as firm up expectations for both you and the makeup artist if you do a trial makeup application. That way you can see a few different looks that may go with your hair, dress and wedding theme. This is also a great way to see if they can actually bring what you have envisioned for your wedding day to life. A professional makeup artist should have no problem doing a trial with you.
Do They Come to You or Do You Go to Them?
This is an important question as far as the logistics of your wedding day go. It can be very convenient to have them come to your home or the venue of your wedding on the day, but be prepared that they may charge an additional fee for this service.
Do They Sign Contracts?
The mark of a true professional is someone who will have you sign a contract for their services when you book them. This may be something that you do up to a year in advance for an artist with high demand. It may sound silly to sign a contract for something that seems as frivolous as makeup, but it's really crucial to use a contract to protect both parties and benefit you as the client. Contracts help to establish expectations and keep everyone on the same page. It also keeps the artist from bailing on you at the 12th hour and leaving you in a panic. You should also expect to pay a deposit for these services when you sign a contract.
If you follow these tips then you should have the wedding day of your dreams and the makeup that makes you feel like the beautiful bride you are!
This post appeared first on MyFashionLife.com