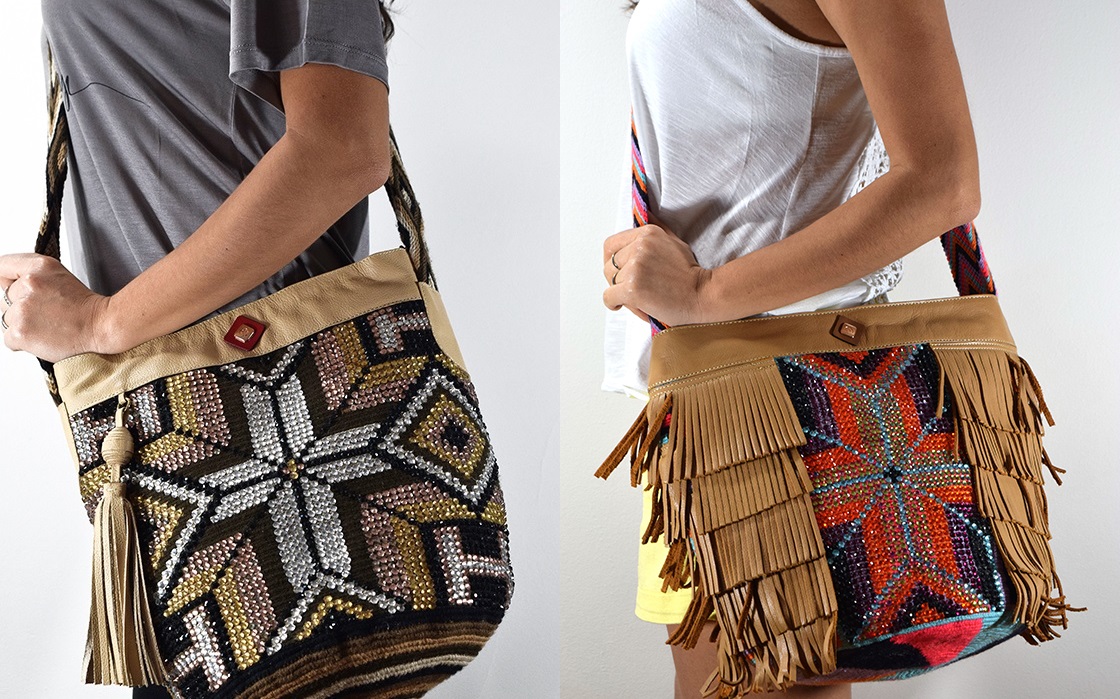 Mochila bags continued to remain as one of the most appealing and sensuous kinds of fashion accessories for men and women of all ages. Upholding an ethnic tradition of the Latin American continent these bags look jovial, smart, carefree and considerably hippie in countenance.
I take pride in my handcrafted Mochila bags. I have a whole lot of them to accompany me almost in every occasion. Moreover, whenever sporting any of these bags I have a distinct sense of connecting those artful Wayuu tribal women of Colombia in spirit. You will be amazed to know that producing each one of these bags takes almost 20 days of labor and artful weaving work. I came across these bags quite lately but once became acquainted with this I could never let it go of my eyes. The colorful patterns with the articulate texture are enough to warm my senses and I still cannot resist buying a Mochila whenever I came across. Actually, each Mochila is uniquely different in look and that make us crave for more of them.
Mochila bags not only represent works of art and craft but it provides a crucial avenue for the Wayuu tribe to survive and keep their artistic tradition alive. Wayuu tribe still has a matriarchal society dominated by women and weaving these bags from the homegrown wool is still the principal means of their livelihood. So, each Mochila bags purchased at the same time helps their livelihood and keep their tradition alive.
The pop colors mixed with the fabulous storytelling patterns in the Mochila bag are very soothing for the senses and make the perfect complement to any kind of fashionable appearance. Whether you pair this bag with nude heels or cross-wear the bag with jeans and top, the fashion statement become discreet thanks to the colorful patterns of the bag.
You do not like bright hues or want to sport a bag with a classic, toned down color. Well, Mochila bags literally offer something to appeal to every fashion taste. You have darker shades with a bucketful of intricate textures that can accompany your much cultivated, gorgeous and outwardly civic taste. So, from sporting something flamboyantly Colombian and discreetly ethnic to sporting a gorgeous strap crossing your shoulders in formal dress, you can grab something that matches your taste and appeal.
Lastly, always remember that these bags are not factory produced fashion outfits and accessories. They uphold an ethnic taste and cultural tradition and each bag showcases some kind of story from their life, nature, belief systems and tradition in an appealing or eye-grabbing way. Besides, upholding the spirit of tribal art and creativity these bags also showcase their collective wisdom and the tradition that remain unperturbed for thousands of years. You would be amazed to know that one-third of the earning made from the production of the bags goes to local community initiatives aimed to support a sustainable livelihood of the tribal women who weave these bags.
Finally, as a fashion accessory, the appeal of Mochila bags is truly awesome because these bags bring a fresh air of ethnic culture and craft built around natural elements and earthen life. This is why from the bikini-clad beachgoers to the high-heeled fashion divas of downtown, all prefer sporting Mochila bags with their outfits.
This post appeared first on MyFashionLife.com