The minimalist approach to fashion has taken on a variety of forms over the years. As fashion evolves, minimalism finds new meanings, from neutral tones to simple styles and accessories. 'Less is more' has always been a simple yet powerful statement.
But the winds of fashion are blowing us into completely unchartered terrains today. When barely-there trends are taking clothing to whole new levels of 'sheer' style, we need a moment to step back and evaluate what's really going on with the fashion scene. My best guess –we're in the middle of fashion's mid-life crisis, an apparently 'feminist' approach that's taking on minimalist clothing to the 'bare minimum'. But girls, let me tell you something, sheer styles may be on trend right now, but simple sophistication will outlast it all.
Minimalism is simple, and simplicity is the ultimate sophistication. Don't make the mistake of confusing minimalism with 'less'. It is not simply the absence of something; it is the presence of something more powerful. Minimalism is practical and purposeful. Staying true to the real essence of minimalism is high-end luxury watchmaker, Tissot.
Tissot's women's collection borrows from the minimalist movement to create timepieces so wonderfully simple, yet so profoundly bold. The collection is not limited to specific styles, but covers a spectrum of designs versatile enough to appeal to the sensibilities of any woman. Apart from having their own luxury showrooms, Tissot Watches can be easily spotted in India at renowned retailers like Ethos Watch Boutiques. So getting a slice of the Swiss pie is just a click away!
I've gathered up some of my favourite designs right here for you to check out and lock down:

Tissot T Gold T73.3.329.76
This micro detailing is giving us major style goals!
The intricate golden weaves that make up the bracelet just capture the essence of minimalism with an effortless flair. Tissot's genius keeps the model clasped close around the wrist, accentuating the slim feminine frame. The dial is admittedly small, but you're not going to have any difficulty telling time thanks to its clutter-free design. You could wear it a stand-alone accessory with formal dresses and let the subtle gold radiance exude a sophisticated allure.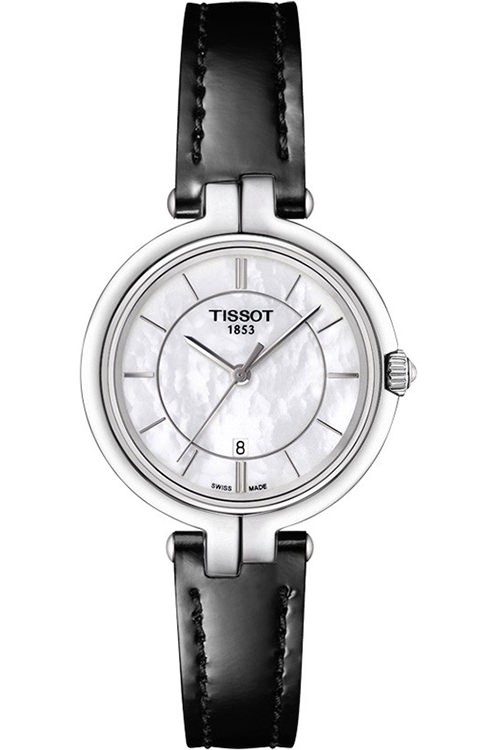 Tissot T Lady T094.210.16.111.00
A chic spin on a classic design, this ticker is winning big with the old-timers and the new. The mother of pearl dial brings an element of glamour to a timepiece that's modest in every other way. For the practical lady who needs a watch to do little more than what it's supposed to, this one's a great option. And of course, we can't help but love the subtle modishness! Perks of minimalism at its best!!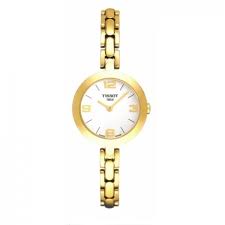 Tissot T Trend T003.209.33.037.00
If the dictionary needed a pictorial definition of 'minimalism', this would be it. Tissot's 'T Trend' is right on the money with this simple yet stunning gold piece.
There's a subtle radiance about this ultra feminine model with its rounded design and elegant chain links. The choice of gold gives it a glam factor that promises to stand out on your wrist, despite its small frame. It's a versatile buy that promises to become your go-to ticker for all intents and purposes.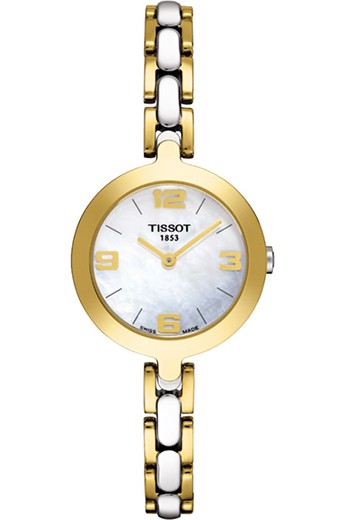 Tissot T Trend T003.209.22.117.00
Elegance has a new home right on your wrist. The dual tone bracelet of steel and gold brings you an ultimate preppy look that leaves little to be desired. The sleek frame will sit snugly around the slender feminine wrist, making it a much sought-after design among ladies with a simple and sophisticated style.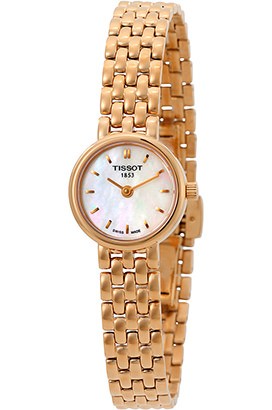 Tissot T Lady T058.009.33.111.00
Can't call any collection complete without a splash of rose gold! Here's Tissot's response to the popular trend, and it's nothing short of mesmerising. The delicate gold links draw on a perfect feminine grace and the mother of pearl dial gives it a truly ethereal charm.

Tissot T Trend T02.1.265.71
If a playful burst of colour is more your style, then here's a stunning model that keeps it sophisticated yet saucy at the same time. Upon closer inspection, you'll notice the hands of the watch are shaped as tiny leaves, immediately making it all the more adorable.
We don't need any more proof that Tissot watches have mastered the art of minimalism. But while all these models are sure to turn heads at work or parties, they aren't all fit for the great outdoors. Thankfully, Tissot's kept it versatile with its collection, and we have here a super cool sporty number that'll be a champ on the field! With a luminescent backlight and neon green strap and dial, this one is Tissot's answer to the call of the wild, with a trendy twist: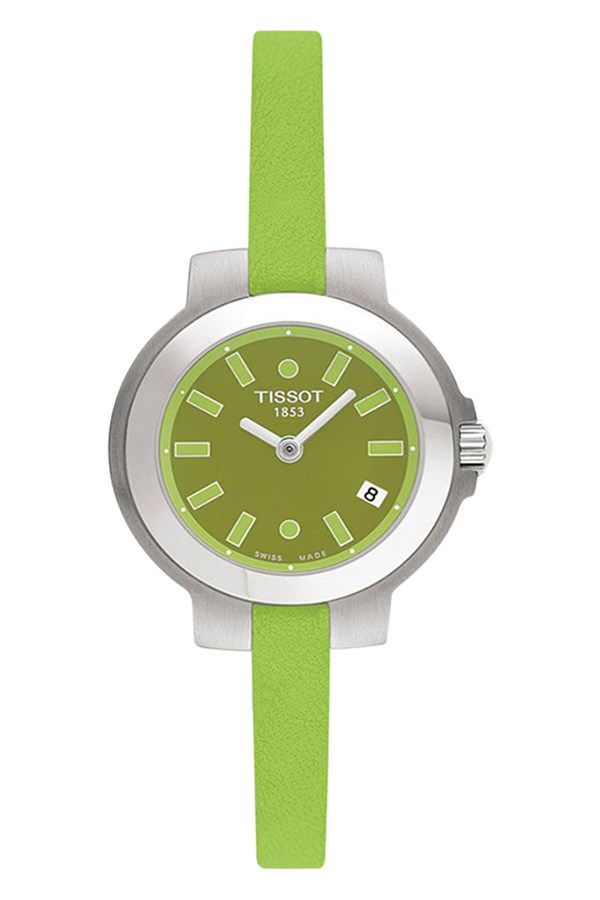 Tissot T Trend T31.1.261.71
All in all, I've got to say I'm impressed than a watchmaker's got minimalism down better than many fashion labels I could think of –but then again, with Tissot, you can only expect the best.
This post appeared first on MyFashionLife.com