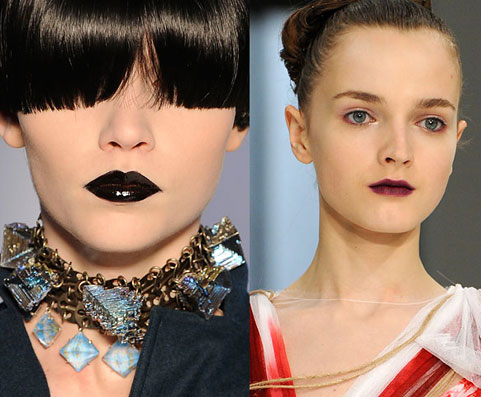 My name is Katy and I am addicted to lipsticks. Nor do I have any intention of abandoning the love(s) of my life as another season leaves a flock of make-up looks like a ticking time bomb at my door. I am, quite frankly, powerless to resist.
Whilst you can't beat a classic red or rose pink, I like a bit of a challenge and A/W's gothic lips certainly provide. Like the finishing touch of chain mail on a warrior's armor, evidently a slick of dark lipstick is all you need to fight the good fight of style.
From Yves Saint Laurent to Gareth Pugh to Rodarte, girls marched on with lips as dark as coal in various shades of purple, blue and black. As seductive as this appears on the runway, it is a difficult look to pull off without emerging corpse-like into the blinding sun. Look to Chloe, then, for a wearable take on the trend – stained berry lips are flattering, pretty – and just a little bit dark.