Last Updated on 23rd October 2008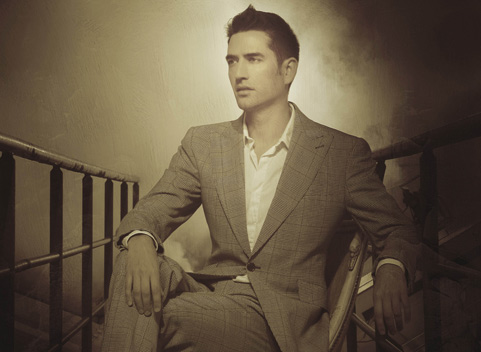 Designer Afshin Feiz was born in Iran, studied in America, and has lived in Paris, so it's no wonder that his designs appeal to woman across the globe. Love and romanticism influence his collections, making him into a modern day poet who expresses his creativity through clothing rather than traditional words.
He designed his own line of clothing line in 2004 which was sold throughout Asia, Europe and North America and has recently shown his A/W '08 collection which was met with great acclaim. We asked him a few questions, and here's what he had to say…
You've lived and worked in many different countries. Would you say that your collections represent your multi-cultural experiences?
Living around the world has effectively influenced me on many levels. Obviously this is reflected in my work but more than a literal representation of differing cultures, I think that it has taught me to understand different women. Be they young or old, North American, European or Asian or whatever. Each has a very different set of rules and needs when it comes to dressing and I have the advantage of understanding many of the different needs of different cultures.
At the end of the day, of course they are all women and my woman brings together all of these different women under the common focus of loveing clothes and fashion, enjoying clothes that are different yet still wearable and feminine.
What inspires you?
Above all else, I am inspired by love.
You've been called The Poet. Which poet do you think best reflects your personality?
The poet that has the most influenced my work and my personality is 13th century Persian Poet Jalal Din Rumi. His reflections on love and his romantic representations of it.
What made you move over from studying French Literature to Fashion?
I always wanted to be a fashion designer but due to paternal pressure, I had to go to University and study something that was "going to make me money" and none of the classic, sciences or economics or any of that was something that I was interested in and so I ended up studying literature more by process of elimination than anything else which was an irony in itself sincemy father was pushing me into Economics etc. By the time my last year of University came around, I had my mind set that I was going to do what i wanted to do finally.
Could you tell us the story behind your A/W'08 collection? And do you have a favourite piece from this collection?
My first ever winter show at New York Fashion Week was called "The Butterfly catcher" and was inspired by the poet Rumi. With his references to butterflies being drawn to the light of candles and getting thier wings burnt, this was synonymous with a lover being first drawn in and then hurt by his beloved. I thought that it would be interesting, since it was my first winter show at London Fashion Week, to re-interpret this theme and see how my own vision had evolved over time and this resulted in a collection called, "Cocoon."
When butterflies are in their cocoon, they are all black as the colour on them is not pigment but a reflection of the light on thousands of tiny scales on their wings. So I made a series of dresses in black, each comprised of a few different textured fabrics and added some rope embroideries etc. These were my imagination of the butterfly while still in its cocoon and the different patterns of their scales. As the butterfly starts to come out of its cocoon, the light hits its wings and I introduced an explosion of vibrant colours to show this.
I have two favourite pieces, the first look of the show, a black dress with origami like folds in shiny and mat contrasting fabrics, and the second is the short yellow satin dress with mini ruffles.
You recently made the move to London a few seasons ago after presenting your collections exclusively in New York, are there major differences between showing in New York and showing in London?
New York has a lot more rules than London. Though there is a new set of very talented young designers in New York, at the end of the day, there is nowhere like London for true creativity because we are less pressured by creative limits. And this no longer has a bearing on commercial limits because the latest set of super talented London designers seem to have found a true balance between creativity and saleability.
Many designers are collaborating with high street stores in order to make their designs more accessible to the general public. Would you ever consider this? And if so, who would you choose to work with?
Yes absolutely, I am very interested in potential collaborations with high street brands. I would love to do something with Top Shop, The Gap or with UniQlo for example.
You have dressed quite a few celebrities in the past, do you have a personal favourite?
I love dressing all sorts of people and I am open to all sorts of collaborations but so far I would say, Katie Holmes. I would love to dress Kate Bosworth or Nicole Richie. I heard Kate saw my collection on Youtube and is very interested in wearing my clothes so that'll hopefully happen soon.
Which other designers do you admire?
Phoebe Philo and Tom Ford, ironically one is not working at present and the other is only doing menswear…I also admire Proenza Schouler, Alexander McQueenand Stella MaCartney very much.
Finally what's the best piece of advice you've been given?
The best piece of advice I've ever been given came indirectly through reading an interview with Alexander McQueen where he said that when he first started, people kept advising him to do this or that and if he had listened and had not stayed focused on his own true vision, instead opting for trying to satisfy as many people as possible, he would have not only not satisfied them but he would have also lost his own direction. At the end of the day there are always people who will like and not like what you do be it boutiques or journalists etc. You need to stay true to your own vision and that way you will be create a brand that has a clear direction and there is always someone who will understand it and want to buy it.