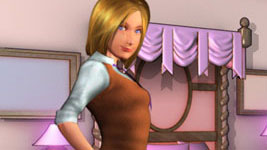 Ever lusted over Clueless Cher Horowitz's virtual closet? Dreamed of making your very own Pretty In Pink prom dress? Quoted Mean Girls witty dialogue daily? Well, it's your lucky day.
Legacy Interactive are working on three new 'video games for girls': based on teen flick and film fashion favourites Clueless (above), Pretty in Pink, and Mean Girls.
I have never been particularly attracted to the world of gaming. However, Clueless and Pretty in Pink (above) are two of my favourite films – least of all because they feature some of the most memorable costumes ever caught on camera. The prospect of stepping into Clueless Cher Horowitz's designer shoes for an hour, spending an evening with the delightful Duckie in Pretty in Pink, or sparring with Mean Girls' Damian during lunch – is enough to have me reaching for my (non existent) games console.
How upsetting then to learn that we'll have to wait until December to download all three video adventures. Can't wait!
[Image]