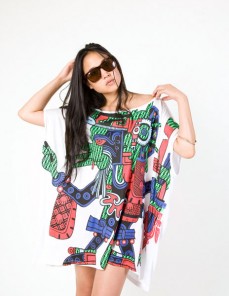 There's nothing like a spot of internet shopping; all the pleasures of a spree from the comfort of your own home. However as a big fan of an online splurge I was beginning to exhaust all my regular online boutiques and found myself on the hunt for some alternative internet delights. On turning my attention stateside I came across Pixie Market and to my delight I also discovered that they ship to the UK, hooray!
A little bit like a US version of our online fave ASOS, Pixie Market offers affordable fashion from some of the Americas up and coming designers. With a massive range of dresses, coats and shoes there is something for everyone. Many of the designs are bang on trend for this autumn/winter with sequins, visible zips, plaid and capes, amongst other style statements prominent across the range on offer. The influence of current American trends however also render the designs distinctive.
A few of the stand out pieces for me include the patent loafers by poly, the triangle dress with visible zip designed by Djuna Paris and the to-die-for cape by Richard Ruiz, all pictured. There is much more to see though so get yourself a currency converter and click your way to Pixie Market.