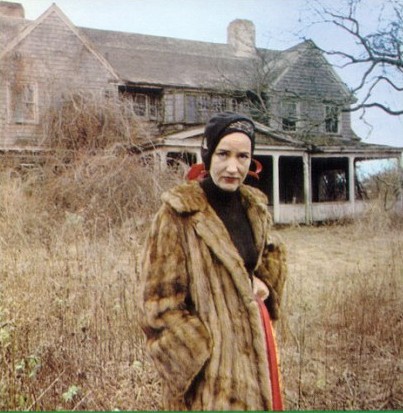 For my instalment this week, I want to tell you a story, it is a story of one of the most unlikely fashion icons who has without intention become a muse to many a fashion designer and fashionista. This is the story of Little Edie Bouvier Beale.
Once upon a time there was a woman, she grew up in a very good family, her cousin even married the President. She was a model and a socialite and she partied her way around New York. But then one day she went to stay with her mother in a crumbling mansion. There she stayed where her only friends were the Marble Faun and the racoons. Where her only pastime was to accessorise. One day some men with cameras came to watch her and her mother, and soon the world knew of this hidden style icon.
Little Edie's story is something of a fairy tale, and in many ways has a happy ending, she does eventually leave the dilapidated house, Grey Gardens, which has become her prison, but sadly she dies alone and forgotten.
Documentary makers the Maysles brother decided to follow the lives of Little Edie and her mother Big Edie during the 1970s, the film titled Grey Gardens became a cult classic. It is fairly disturbing, Little Edie is trapped but she finds her freedom through her fashions and fantasies.
Little Edie shows innovation through swimwear worn as daywear, jumpers as skirts, tops as capes and not to mention those turbans. Little Edie has inspired designers and stylists alike. Calvin Klein, John Galliano and Marc Jacobs have all hailed Little Edie as fashion heroine, Marc Jacobs has even named a handbag after her. Whilst Vogue and Harpers Bazaar have created shoots based on her individual style.
The documentary is well worth seeing, a musical has even been made based on it. And two books have been released this year A Maysles scrapbook: photographs/cinemagraphs/documents and Edith Bouvier Beale of Grey Gardens: a life in pictures, which chart Little Edie's life and style. There is also a film due for release starring Drew Barrymore as Little Edie, so you're bound to be hearing a lot more about this wonderful woman.
You'd better start fashioning your turbans and jumper skirts if you want to be in with the fashion pack!