Last Updated on 19th October 2013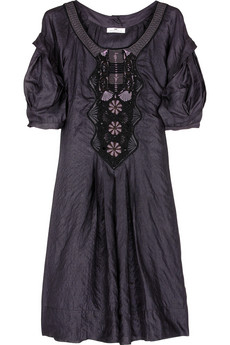 If you like your clothes to be just that little bit different then you need to become acquainted with Day Birger et Mikkelsen. The brainchild of designers, Keld Mikkelsen and Malene Birger the label was established ten years ago in the quirky city of Copenhagen.
There is a slight bohemian edge to the Day Birger et Mikkelsen aesthetic, but without dodgy fringing and weird paisley prints. Instead it's a mix of sumptuous fabrics, stunning embroidery and an unbeatable eye for detail.
I first realised the wonder of Day two years ago, I fell in love with a black military cape which I snapped up and since then the same style has been copied up and down the high street, but without the flair of Day. It isn't high street prices, you're looking at between £120-£250 for a dress, but they are pieces worth saving for. They are well made, interesting and seasonless.
Day are also the pioneers of layering, they have a number of separate jersey pieces, they make fab leggings. The idea is you take one of their sequin encrusted pieces put a long sleeve jersey underneath and leggings then add a knit or leather jacket over the top. It's that dressed-up-down chic that us Brits have such difficulty creating.
If you want to see more then check out Net-a-Porter.com, www.my-wardrobe.com, Selfridges and House of Fraser.