Last Updated on 17th November 2008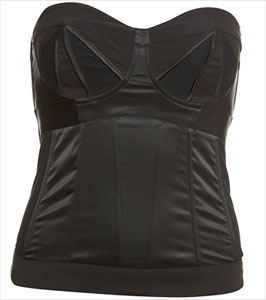 In this climate of accounting for every penny and mending and make do, clothes purchases have to be that little bit more considered. So, if you only invest in one item of clothing right now, make it this Bodycon cup corset from Topshop.
A little bit old Hollywood, a little bit electro kid and a little bit Madonna circa the Blonde Ambition tour, this top has it all.
The sweetheart neckline makes for a crisp but classic silhouette whilst the emphasised boning in the cups makes it luxe and edgy.
Why is it so great? Well, it goes with virtually everything that is on trend right now and is a simple way of updating any old outfits you have. Team it with bubble, bodycon or tulip skirts, leggings, jeans or even circle skirts. Circus or gothic trend you name it, it goes.
However for me, its weak-point is the sheen on the polyester fabric. Over accessorize or team it with anything else too shiny and you could end up looking like a Daily Mail poster girl for binge drinking. Just make sure you buy some bunny ears to complete the look.
So keep it matt, keep it dark and above all keep it classy.