Last Updated on 11th December 2008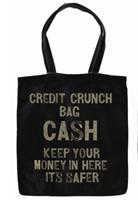 We know we probably shouldn't poke fun at the credit crunch, but it seems us fashion lovers are in a delightfully ignorant little place called denial. I certainly am anyway. What's this? We need to spend our way out of this financial crisis? Well OK then, if you insist.
Fortunately, Paul Smith has decided to help us all out a little too. Take a look at this 'Credit Crunch Bag' which makes light of the current situation with it's bold type emblazoned across the canvas. 'Keep your money in here' it says. Hmmm maybe not Paul, but I like your style.
Priced at just a tenner, this simple tote really is credit-crunch friendly. You can carry it around with you everywhere like a good little ethical shopper, perhaps placing your fabulous, new, and slightly pricier purchases inside…