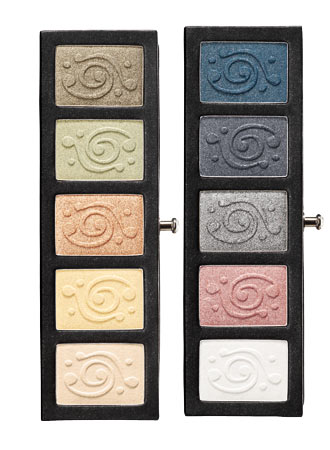 I've never really been a huge fan of make up from The Body Shop, predominantly because I haven't actually ever tried much of it, but seeing this special edition set of eye shadows got me a little excited. The pretty, sparkly box got me first, and then I saw the shimmering, autumnal hues of the palette.
The range of warm colours are perfect for the current season, although the metallic sparkle means they'd probably be a better option for evenings out (shame we've passed the party-filled season!)
As well as a wide mirror on the underside of the lid, you'll also find an eye shadow brush in a draw big enough to store a couple more of your own, making application on the run ever easier.
If you're after a matte finish, don't opt for this palette, for you might be applying all day! For a more sheer yet colourful shine, these colours are generally better over a base. The eye shadows are smooth, however they have a tendency to crumble, meaning not only a messy palette (and maybe face), but the embossed logo on each colour block won't last two seconds. I know, I know, it's only aesthetics…
The Special Edition Sparkle Eye Palette from The Body Shop arrived just in time for Christmas '08… so what does that mean for us beauty junkies of 2009? Sale of course! This little compact originally retailed at £18, so nab it while you can, for a steal at just £7!
Special Edition Sparkle Eye Palette, £18The Body Shop