Last Updated on 9th February 2009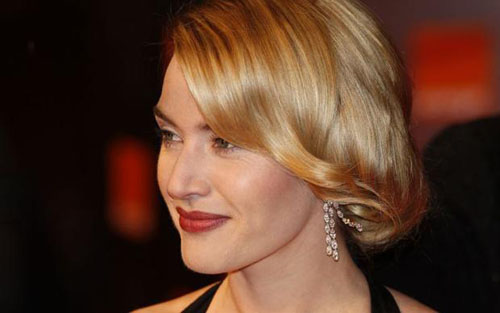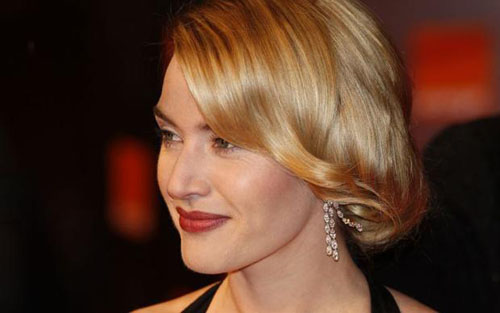 So we are now in full movie red carpet full swing. In the run up to the Oscars, the BAFTAs are the place to shine. And did they do it? Did the stars remind us why they are the people we want to be? In a word.. No.
It wasn't an evening of epic disasters, there was nothing so horrific it made me want to cry, well maybe there was one. But there was certainly nothing to capture the imagination. So much black, you wouldn't have been blamed for thinking that they were all off to a very glamorous funeral.

The Hit list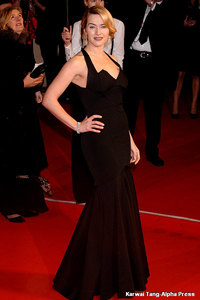 Kate Winslet , love or hate her, her stylist certainly knows her stuff. Kate's Zac Posen number may not have been a fabulous colour but the dress flatters and accentuates those curves. I am particularly loving the vampish neckline.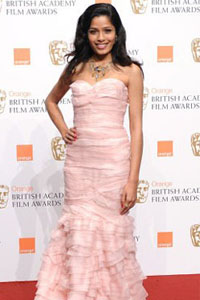 Freida Pinto – Wearing a girly Oscar De La Renta gown, the Slumdog Millionaire star was the shining light in all that black. It fit perfectly, and the pink ruffles were wonderfully feminine. The statement necklace adds true glamour.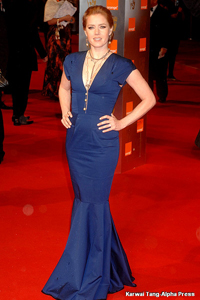 Amy Adams , Flying the flag for sexy redheads everywhere, Amy Adams is continuing her status as a screen siren. The royal blue gown from RM by Roland Mouret, hugged her shape creating a perfect silhouette. I'm loving the cleverly draped pearls, although the earrings are a little unnecessary.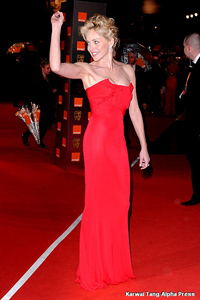 Sharon Stone , In striking red Sharon Stone knows how to work the red carpet. The hair is a little finger in a plug socket, but we'll forgive her because she really is working her John Galliano dress.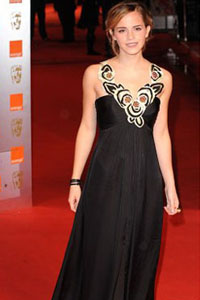 Emma Watson – This is not a wow dress, but it is not worthy of a non-entity either. There is something really quite striking about this Temperley number. The embroidered neckline is so flattering, and I feel that Emma looks elegant and feminine whilst still acting her age.
The Miss list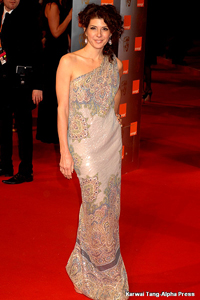 Marisa Tomei , Etro, what were you thinking when you created this monster? Is anyone else feeling like we've be transported to Marisa's god-awful other outing in The Guru? This look is dated and actually not very flattering.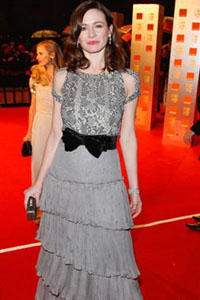 Emily Mortimer , Where to start?! So when did grey tiers, black velvet bow, cut out sleeves and snakeskin ever sound like a good idea to you? I don't care if it's YSL, it's hideous.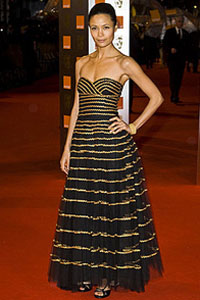 Thandie Newton , A beautiful girl wearing a rather underwhelming vintage dress. Sitting too low on the boobs and to short on the ankles, Thandie looks out of proportion. The gold stripes look cheap on that black tulle. Just an all round disappointment.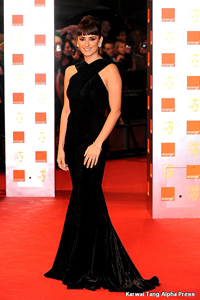 Penelope Cruz , In Alaia she should shine. But in a high-necked velvet dress she looks drab. With such a fabulous figure it is a shame to have hidden it under all that velvet.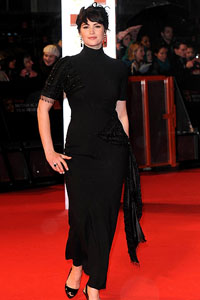 Gemma Arterton , This may be Dior, and I get the 40s demure look, but honestly, a polo neck on the red carpet? And those strange embellished tassels and belt thing. Get me John Galliano he's got some explaining to do.
The non-entity list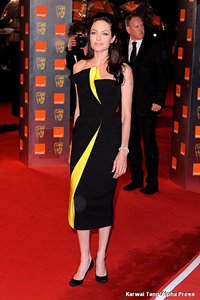 Angeline Jolie , This Armani Prive, is not awful, it fits well and I like the bold yellow strip. But the length is horrid, mumsy being an understatement. Nice neckline though.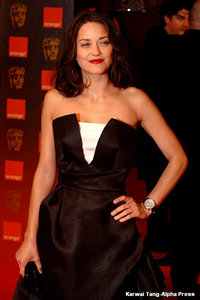 Marion Cotillard , Another strange design from Dior. It's quite a nice cut, but nothing to wow you with. The shoes don't look right and I wish the hair stylist could have brushed Marion's hair first. Not terrible just a strange choice.
The should have stayed at home award: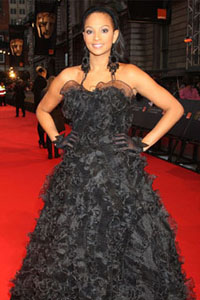 Alesha Dixon , run for the hills a blob of black ruffles is eating the red carpet! This Giovanni gown with gloves – is beyond horrific, it's beyond a miss, it just should never have been made let alone worn.