Last Updated on 19th October 2013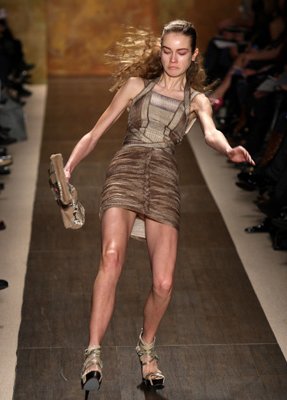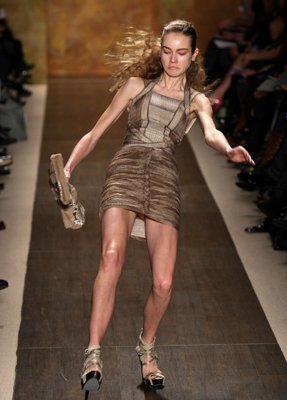 Not one, not two, not three…..but four models fell at Herve Leger yesterday! Damn that slippery runway. But, not even stick thin models attempting to regain their balance or even the star studded front row (Lucy Liu, Sophia Bush, Michelle Tractenberg and Joy Bryant) could have distracted from the collection.
Gone were the pretty jewelled coloured bodycon dresses that have been over worn globally by every a, b and z list celebrity and in its place were olive green, black, beige and mocha variations of the signature Herve Leger bandage dress that we've come to love despite the fact that only a privileged few actually have the figure to pull it off.
"Moving to the beat of the tribal drum, was the inspiration for the show and Azria certainly managed to convince fashionista's that there are many ways to love the bandage dress….the standing ovation Azria received was proof enough! I was clapping so hard my camera tumbled and fell about three seats ahead of me.