Last Updated on 16th February 2009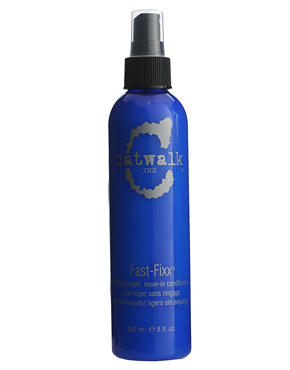 At some point, every single one of us needs a magic wand hair product to fix a hair emergency. For me it starts when I pull my head from the pillow, finally turn off the alarm that has been on snooze for 40 minutes, rub the sleep from my eyes and confront the mirror. Until now I thought the only solution was a good hat. So when this Tigi Catwalk Fast-Fix styling mist promised to not only solve unruly morning hair but to condition, detangle and add shine, I simply didn't believe it.
However, after a very thorough test involving a couple of missed alarms and some very wet, windy weather, I can confirm it can. This lightweight solution gives best results when used sparingly over dry hair, but can also be used as a leave-in conditioner after shampooing, to add gloss and increase manageability.
Spray on and simply restyle. After a quick brush through, flyway hair was banished and my hair was instantly smooth. What's more the fix lasts. Despite rain and wind, unlike me, my hair remained remarkably composed.
Sadly, Fast-Fix does indeed have one flaw. Although it makes hair soft and smooth, it also left it stiff and moulded in one shape. Also use sparingly or the hair can become a little greasy. A little most definitely goes a long way.
Praise be, man has created a liquid more holy than Lourdes water. And it smells pretty darn good too. £6.75 available at ASOS.com.